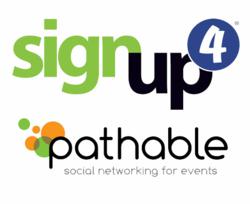 We can finally offer attendees the simple solution to their networking needs that they've been asking for.
Atlanta, GA (PRWEB) March 19, 2013
SignUp4, the leading provider of event management software, announced its new partnership with Pathable, the leading provider of private social communities for meetings and events. The integrated offering enables simple solutions for event planners seeking to provide their attendees a way to network at events.
In the past, event attendees have been largely left to their own devices when trying to find the right people to meet at meetings, and to coordinate a time and place within vast convention centers. Now, attendees are carried seamlessly from event registration through to community discovery and on to meeting scheduling. Pathable's social networking tool makes it easy for attendees to discover relevant contacts in the sea of faces at an event, and its calendar tool allows for easy session selection as well as private meeting coordination and scheduling. Personalized agenda can be exported to Outlook, iCal or viewed on mobile devices. Attendees build the connections they seek out of the event, while event managers get valuable behavioral data, increased attendance and improved customer satisfaction.
"People attend events to network and meet other people," explained Pathable's founder, Jordan Schwartz, "but it's just hard to do. By integrating these easy-to-use social and scheduling features directly into SignUp4's registration system, we can finally offer attendees the simple solution to their networking needs that they've been asking for."
Through SignUp4's Event Management System, attendee details can be imported into the event's social community incorporating attendee's Facebook, LinkedIn and Twitter profile information to create professional profiles. "Social is an industry best practice and often times getting attendees to network can be a challenge for our customers," said Matt Curry, Director of Business Development. "This partnership with event management and social engagement will only bring more success to our customers' events and improved experiences to their attendees."
About Pathable
Pathable, Inc., a privately held Seattle-based company was founded in 2007. Since that time, it has served hundreds of events, including those of Microsoft, SAP, GE Healthcare, Meeting Professionals International, and Dell, with a private, branded on-line event communities that allow attendees to connect, schedule meetings, choose their session schedules and visit exhibitors for months around a face-to-face event. Learn more at Pathable.com.
About SignUp4
SignUp4 is the innovative meetings intelligence provider offering the highest quality event management and strategic meetings management solutions with an affordable unlimited usage model. The goal of SignUp4′s meetings intelligence is to streamline workflows, simplify and drive registrations, efficiently manage travel logistics, improve communications, and provide visibility into meeting spend for leveraging contract negotiations and increasing ROI. With over a decade of experience, 3,200 users and over 80 of the Fortune 500, we understand the value of your time and events. Learn more at SignUp4.com.