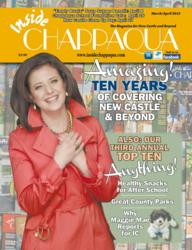 Somehow, through all the uncertainty of life, politics and publishing, Grace has landed on her feet.
Chappaqua, NY (PRWEB) March 18, 2013
"It's not every day that a local publisher goes the 'Oprah' route on the cover of a hometown publication." So begins Grace Bennett's letter to her readers in the March/April 2013 edition on the occasion of Inside Chappaqua Magazine's 10th-year anniversary. Grace launched the magazine's first issue in April 2003 during a pre recession era in which the biggest debate in town was whether kindergarten should be full day. The letter goes on to list ten reasons she decided to feature herself on the current cover and include a tribute story inside the magazine's pages.
Reason No. 7: "I have been feeling empowered by Secretary Hillary Rodham Clinton—and the trip I took last summer."
This is no everyday small publisher. Over the past year, Grace produced a November 2012 edition which contained over eight pages covering the trip she took to Africa and Turkey with then Secretary of State Hillary Clinton. With only a 30,000 circulation publication produced by her company, The Inside Press, Inc. --and its site, insidechappaqua.com-- she joined 10 other members of the elite Press Corps on the 11-day journey. She landed a seat on "SMS 757" following a discussion with the Secretary about the possibility during Chappaqua's Memorial Day parade the Clintons participate in virtually every year. The story can still be found online at http://www.insidechappaqua.com within the link called "Cover Stories."
Beyond the coverage Inside Chappaqua Magazine has included about the Clintons over the years, from its start, Grace created a "hyper local" largely merchant supported 6-8 time a year print, glossy news and lifestyle publication that has offered readers a variety of info about residents but also features news from business sponsors and their "shop local" campaigns in the New Castle area, a vibrant community within northern Westchester. "Local residents and business owners have felt as included as our more famous ones," stated Grace. She is as likely to create a cover story surrounding a long time Town Historian (Gray Williams) as she is one of actress Vanessa Williams.
Grace's feelings of empowerment have come, yes, from the travel with the Secretary but also from persevering through life crises over the years, including her mom's passing, separation and divorce and finally, an economic recession that threatened her livelihood as a single mom at one juncture. She is the daughter of Holocaust survivors, which perhaps helps explain her drive and survival instinct, and on the board of the Holocaust and Human Rights Education Center based in White Plains, NY. In 2007, Inside Chappaqua received a "Superwoman of the Year" award from the Westchester/Putnam County chapter of Women in Communications. She is, not surprisingly, very active on social media, where thousands followed her daily posts from Africa and Turkey. You can subscribe to Grace Bennett and/or like her Inside Chappaqua Magazine page on Facebook, which links to her Twitter and LinkedIn accounts.
So there was much to celebrate with hundreds of friends on March 14 at the world renowned Crabtree's Kittle House, a favorite dining choice for the Clintons too. Grace also raised in excess of $5,000 the same evening for the Holocaust and Human Rights Education Center in White Plains where she serves as a board member. As the tribute by Jean Sheff inside the magazine states, long time humor columnist Rick Reynolds, summed it up best: "Somehow, through all the uncertainty of life, politics and publishing, Grace has landed on her feet: a testament to her determination, her loyal business patrons, and her readership."
For an interview with Grace, call 914-238-2600 or write to editor(at)insidechappaqua(dot)com.