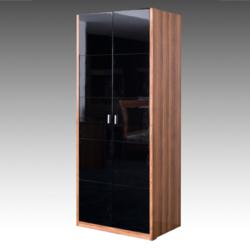 (PRWEB UK) 21 March 2013
FurnitureInFashion has unveiled a beautiful Emma high gloss black and walnut 2 door wardrobe to provide storage facility in a bedroom. FurnitureInFashion now presents a beautiful and highly functional wardrobe on its website for the customers who are looking for a suitable wardrobe for storage requirements in their bedroom but are unable to visit showrooms. Emma high gloss wardrobe is surely going to change the loom of a room from an ordinary resting place to a place with elegance and a wow factor. The first thing that is significant about this exquisite wardrobe is that it is inspired by the contemporary styles of Italian furniture. The design of this wardrobe is refreshing and innovative. As far as the durability of the wardrobe is concerned, there is no doubt about it because it is made out of solid and sustainable walnut which is meant to provide a high level of strength to the wardrobe.
The stunning Emma gloss black and walnut wardrobe has 2 doors. It is a stunning combination of walnut and high gloss black. The 2 doors of the wardrobe are in high gloss black finish. The manufacture of Emma wardrobe is subtle with geometric designs. FurnitureInFashion ensures that there is a perfect blend of style, solid wood manufacturing and beauty. The concept of such wardrobes arose from the increasing demand where the customers sought wardrobes that would make a signature style with durability and functionality. The team of FurnitureInFashion brought together the best of ideas and features to make the contemporary Emma wardrobe that would match the requirements of the customers.
Asad Shamim, Managing Director and CEO of FurnitureInFashion, says, "Your bedroom is a very important part of your life. It is where you not only sleep but also relax in your free time. However, having a cluttered bedroom would probably make you uncomfortable. FurnitureInFashion is, therefore, here to help you organize your bedroom in style and elegance with our wonderful Emma high gloss wardrobe. You can now manage all your storage needs by incorporating this beautiful wardrobe in your bedroom."
The highest standard and quality has been used in the materials for manufacturing of this wardrobe. German manufacturing processes have been used in order to provide durability and stability. The overall design of the wardrobe is sleek which is why it wouldn't take much of the space in a bedroom. The high gloss black front of the wardrobe adds a contemporary and modern ambience to a bedroom. The MD says, "For our customers who wish to revamp their bedroom completely, FurnitureInFashion offers matching bedroom furniture in the Emma walnut and high gloss range. The bedroom furniture collection includes a solid walnut bed with high gloss black headboard, a solid walnut side table with black gloss drawers, a solid walnut dressing table with black high gloss drawers and a chest of drawers in walnut and high gloss finish. The Emma bedroom furniture collection is a highly practical and modern addition to your home."
FurnitureInFashion offers a wide range of wardrobes of various measurements and designs. Customers can choose one according to their requirements. They can browse through different pictures and descriptions of the wardrobes available on website of FurnitureInFashion. Every wardrobe on the online display will have multiple cabinets and drawers for providing maximum storage facility.
To have a look at this new Emma high gloss walnut wardrobe and to place a pre-stock order, please visit the company website today at http://www.furnitureinfashion.net. The range of wardrobes at the website is huge, delivery is fast, savings are massive and the quality is guaranteed.
About FurnitureInFashion
FurnitureInFashion is a UK based online retail business. It supplies furniture items from its German based warehouse and has a showroom in Bolton, UK. The company provides everything from umbrella stand, wall art and room dividers to bedroom, bar stools and computer tables. FurnitureInFashion offers excellent free delivery within UK and has a fantastic customer service as well. For further information and details about the sale, please visit http://www.furnitureinfashion.net.