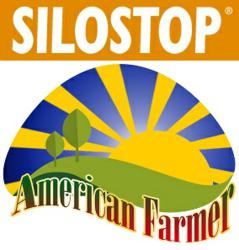 Kansas (PRWEB) March 19, 2013
Bruno Rimini Corp., makers of Silostop® total oxygen barrier film™, announced today they will be featured in an upcoming episode of American Farmer.
Similar to the use of plastic food packaging which helps to prevent our groceries from spoiling in the store, covering forage or grain at ensiling serves a very similar purpose. However, selecting the right covering and achieving the proper seal when putting up silage has a significant financial impact on an operation. Losses from unsealed or incorrectly sealed corn silage exceed a quarter billion dollars every year.
Silostop total oxygen barrier film has been specifically engineered for this purpose, and has been scientifically proven to protect forage and feedstuffs from oxygen, over 60 times more than standard plastic covers.
American Farmer audiences will learn about Silostop's total oxygen barrier film; a thin and clingy plastic used underneath traditional polyethylene plastic to help preserve bunker or piled silage. Viewers will be amazed as American Farmer explores how Silostop's barrier resin stops oxygen more than a regular plastic bunker cover made of polyethylene.
In addition, observers will learn that use of Silostop results in minimal feed loss along the sides and in the top 3 feet of a bunker or pile of feedstuffs, and in turn, improves the producer's bottom-line.
"We are excited to be working with American Farmer and to showcase Silostop total oxygen barrier film with audience viewers," said Simon Wigley from Bruno Rimini Corp. "No other product in the marketplace compares to the protective power of the total oxygen barrier film from Silostop. As a result financial losses from throwing away damaged feed and spoiled silage are unnecessary and can be avoided with Silostop total oxygen barrier film.
"American Farmer is excited to feature this new and revolutionary product," said Charles Cowan, producer for American Farmer. "Not only do we look forward to educating viewers on Silostop's dedication to keeping high quality silage from spoiling, but also on the product's ability to improve the producer's bottom-line."
About Bruno Rimini/Silostop:
Silostop® total oxygen barrier film is produced under the Bruno Rimini brand as a specifically engineered oxygen barrier film that is proven to protect ensiled forage and grain with superior performance over traditional plastic covers. Silostop® offers a complete line of products to address specific silage storage management needs including barrier films, gravel bags and protective nets. For more information, visit http://www.silostop.com, email info(at)silostop(dot)com, or call 866-912-0358.
About American Farmer:
American Farmer is a breakthrough program on a mission to showcase the latest advancements in agriculture and farming. From seed to harvest, livestock and more, our producers have traveled the country covering the people, places and issues impacting all areas of farm country.
American Farmer airs Tuesdays at 8:30am EST on RFD-TV as well as Saturdays at 1:30pm and Midnight EST on RURAL-TV.
For more information visit: http://www.americanfarmertv.com or call (866) 496-4065.
Media Contact:
Charlie Cowan, Producer
(866) 496-4065 x 875
charlie(at)americanfarmertv(dot)com