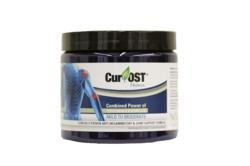 ...within just a few days of using the Cur-OST® Human formula, my knees were feeling much better, I was able to move freer and able to resume my tennis lessons. - Jack Jernigan
Jonesville, NC (PRWEB) March 20, 2013
The incidence of cancer, cardiovascular disease and other health conditions are on the rise. Is it possible to improve overall health and lessen the likelihood of being a victim? Studies have shown that the answer is yes.
Chronic inflammation has become a hot topic in human and veterinary research, demonstrating a direct correlation and negative impact on health. Inflammation is a complex topic but essentially breaks down into two categories; acute and chronic.
Acute inflammation is a natural and necessary entity aiding in the repair of wounds, removal of dead and dying tissue as well as bacterial invaders. This process generally ends once the acute condition is resolved. Common cardinal signs of inflammation include pain, redness, swelling, heat and loss of function.
Chronic inflammation is an ongoing process and leads to the continuous production of pro-inflammatory proteins, changes in cellular function, alterations in blood circulation as well as tissue damage. Common conditions affecting humans and animal associated with chronic inflammation include arthritis, asthma, cardiocasvular disease, diabetes, allergic conditions, digestive complaints, depression, fibromyalgia and cancer.
Chronic inflammation involves not only a cellular component but also a condition termed oxidative stress, which is an imbalance between damaging free radicals and protective antioxidants in the body. Free radicals are oxygen and nitrogen derivatives that can inflict damage to the cellular DNA, resulting in malfunction. In the end, chronic inflammation is like a glowing pile of embers, impacting overall health. Certain factors contribute to and fuel the process leading to flare ups and long term damage. These factors include diet, lifestyle factor and genetics, environmental influences, stress, lack of exercise or excessive exercise and the influence of certain pharmaceutical medications.
In the end, everyone is susceptible to the damage inflicted by ongoing inflammation, but the good news is that something can be done to prevent that damage. The keys lie in reducing the cellular damage, improving the body's immune response and reducing the inflammation and pain. This can all be done naturally.
Cur-OST® is a line of natural anti-inflammatory formulas that are designed to reduce inflammation and oxidative stress by using a proprietary blend of herbs and antioxidants. These formulas are researched and created by Dr. Tom Schell, a practicing veterinarian and researcher for over 18 years. Cur-OST® formulas take advantage of herbal and antioxidant synergism to reduce the inflammation effectively. The most potent form of curcumin (BCM-95®) is used, which has demonstrated enhanced absorption as well as the ability to down regulate pro-inflammatory transcription factor NF-kB, which results in the reduction of pro-inflammatory proteins such as interleukins, COX enzymes and MMP's which inflict cellular damage. Curcumin (BCM-95®) has also demonstrated in research the ability to up regulate the NRF2 transcription factor, which enhances our body's natural ability to create antioxidants to protect against free radicals. The Cur-OST® formulas utilize curcumin in combination with other potent anti-inflammatory herbs including Boswellia, Ashwaghanda and Spirulina to take advantage of synergism and get results.
Cur-OST® formulas are medically formulated, research supported and clinically utilized for over 6 years. Through up regulation of NRF2, down regulation of NF-kB and reduction of oxidative stress, Cur-OST® formulas simply tackle chronic inflammation more completely. In a recent survey of Cur-OST® customers, over 50% reported marked improvement in their conditions and 30% noted moderate improvement.
Nouvelle Research, Inc. offers formulas for people, companion pets and horses.
Visit http://www.curost.com for more information or contact Tom Schell, D.V.M at tschelldvm(at)nouvelleresearch(dot)com or by calling 1-800-476-4702.