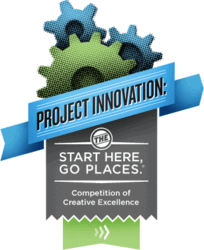 What better way to challenge the number-crunching stereotype of an accountant than to develop a TV show based on the accounting profession?
New York, New York (PRWEB) March 18, 2013
The American Institute of CPAs today announced a team from Batavia High School in Batavia, Illinois as winners of Project Innovation: the Start Here, Go Places. Competition of Creative Excellence. The competition, sponsored by AICPA's Start Here, Go Places. website, challenged high school students to develop a hit TV show focused on the accounting profession. The team won $4,000 in scholarships and $3,000 in grant money for their school.
"Our goal with this year's competition was to challenge high school students to learn more about the accounting profession in a way that encouraged them to be as creative as possible through a medium they were quite familiar with," said Heather L. Bunning, AICPA Sr. Manager, High School and Community College Initiatives. "What better way to challenge the number-crunching stereotype of an accountant than to develop a TV show based on the accounting profession? Through the course of the competition, students learned to communicate effectively, think creatively and work within a team – all of which are keys to getting ahead in the profession."
The competition called for teams of two to four high school students to take on the roles of TV writers and producers and create a concept for a new show by developing a proposal, production budget and short video preview that they would pitch to a network – a panel of judges appointed by the AICPA.
Student teams from around the country entered submissions, with the top entries selected by a panel of judges to participate in the finals. The finalist teams' video teasers were posted to the Start Here, Go Places website where the public had the opportunity to cast a vote for their favorite and for teams to build their audience. Following the public vote, the finalists presented their ideas via Google+ Hangout to the final round judge, John Digrado, CPA, executive director, Finance, at Sony Pictures Television Networks International, who evaluated their videos and budgets and their ability to present their idea as the winning concept.
"The competition was a great way to get students thinking about accounting in a way they maybe hadn't before. It was great to see the students take on the challenge of developing an idea, building a budget and enlisting their friends and teachers in making that idea a reality, said Digrado. "Each team approached the competition in a unique way, but I think all of them came away with an appreciation of both the process of developing a TV show and the accounting profession as a whole."
The winning team, named Accounting Pros, consists of David Madrigal, Stanley Walden and Zach Thilges, with Jeffrey Miller serving as faculty advisor.
The team's proposed show stars Dominic Clark, a young SEC agent with his CPA license. When Dominic gets a position with a toy company, he exposes fraudulent activity, leading to a position with the FBI. In his role at the FBI, Dominic goes undercover to expose white collar crimes as a forensic accountant, while secretly investigating the agency's financial history. View the pilot to see if Dominic will get caught in his secret investigation.
"I was really impressed with their idea. I could genuinely see how it puts accountants in a heroic light and generates interest in the profession with the broadest audience possible. Their pilot did a great job setting up the central plot points of the show, and their budget was well considered. The team did an excellent job explaining their idea in their final presentation and really selling their show," Digrado added.
The second place team from Pine Ridge High School Deltona, Florida won $3,000 in scholarships and $2,000 for their school. Students from Foxborough High School in Foxborough, Massachusetts took home third place, netting $2,000 in scholarships and $1,000 for their school.
More information on the finalists and their submissions can be found on the Start Here, Go Places. website.
About Start Here, Go Places.
Start Here, Go Places. is an interactive website for high school and community college students interested in exploring accounting as a viable career path. Students can read and hear testimonials from college accounting students as well as practicing CPAs, explore potential universities and even create customized resources to help them take the jump from high school to college through a personalized College Checklist. The website also offers educators an exclusive destination where they can exchange ideas and best practices with fellow teachers and obtain additional classroom resources and lesson plans to supplement their curriculum.
Start Here, Go Places. has received 26 awards and national recognitions from the International Association of Business Communicators, American Society of Association Executives and other sponsoring organizations.
The site originally launched in 2001 and has achieved more than 1 million visitors from 211 countries.
About the AICPA
The American Institute of Certified Public Accountants (AICPA) is the world's largest member association representing the accounting profession, with nearly 386,000 members in 128 countries and a 125-year heritage of serving the public interest. AICPA members represent many areas of practice, including business and industry, public practice, government, education and consulting.
The AICPA sets ethical standards for the profession and U.S. auditing standards for audits of private companies, nonprofit organizations, federal, state and local governments. It develops and grades the Uniform CPA Examination and offers specialty credentials for CPAs who concentrate on personal financial planning; fraud and forensics; business valuation; and information technology. Through a joint venture with the Chartered Institute of Management Accountants (CIMA), it has established the Chartered Global Management Accountant (CGMA) designation to elevate management accounting globally.
The AICPA maintains offices in New York, Washington, DC, Durham, NC, and Ewing, NJ.
Media representatives are invited to visit the AICPA Press Center at aicpa.org/press.
# # #