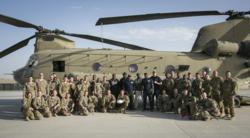 "This is a great opportunity to support the service men and women of our armed forces and bring attention to their efforts overseas," said Bailey.
Arlington, VA (PRWEB) March 18, 2013
Twitter Pitch: @champbailey, @DQ52, @DavinJoseph75, @MillerLite40, Steve Smith & @JJWatt boost troop morale on @the_USO tour to SWA!
Six NFL players stepped off the gridiron and onto the front lines of the Middle East on March 14th as part of a week-long USO/Armed Forces Entertainment tour. On a mission to uplift, inspire and extend America's gratitude to troops are Denver Broncos cornerback Champ Bailey, Cleveland Browns linebacker D'Qwell Jackson, Tampa Bay Buccaneers guard Davin Joseph, Broncos linebacker Von Miller, Carolina Panthers wide receiver Steve Smith and Houston Texans defensive end Justin James "J.J." Watt. ***USO photo link below***
DETAILS:

So far, the group has visited approximately four military sites downrange and lifted the spirits of hundreds of servicemen and women. This trip marks the first USO/NFL tour for each player.
In 1966, the NFL teamed up with the USO and became the first sports organization to send a group of players to Vietnam and other parts of Asia to demonstrate the league's support for America's troops.
Since 2007, the USO has sent out 166 NFL representatives (to include NFL Commissioner Roger Goodell, 75 officials, 59 players, 24 coaches, 5 Hall of Famers and 2 analysts) on 40 tours to 20 countries, boosting the spirits of more than 10,000 servicemen and women, and their families.
Among the countries the USO/NFL tours have visited over the past six years: are Afghanistan, Cuba, Djibouti, Dubai, Germany, Hawaii, Iraq, Italy, Spain, Ireland, Japan, Korea, Kuwait, Kyrgyzstan, Oman, Qatar, Turkey, UAE, the United Kingdom and Bahrain.
Drafted in the first round of the 1999 NFL draft by the Washington Redskins, Bailey ranks first in all-time career interceptions for the Denver Broncos. He has appeared in eleven Pro Bowls and is commonly regarded as one of the best past defenders in NFL history.
A University of Maryland alum, Jackson was drafted by the Browns in 2006.
Joseph is a native of Florida and was drafted by the Buccaneers in 2006 after playing football for the University of Oklahoma.
Recognized for his football prowess at Texas A&M University, Miller was drafted by the Broncos as the second overall pick in the 2011 NFL Draft. Since then, he has become a Pro Bowler and receive All-Pro honors as a rookie.
A five-time Pro Bowler and three-time All-Pro selection, Smith is one of the NFL's most talented wide receivers. Leading the Panthers in catches, receiving yards and touchdowns, in 2011 Smith became the 35th player in NFL history to amass 10,000 receiving yards. Smith is a graduate of the University of Utah and was chosen by the Panthers as a third round pick in the 2001 NFL Draft.
Watt had one of the most prolific seasons ever by a defensive lineman, as he led the NFL with 20.5 sacks, which tied for the sixth-most in a season in NFL history, and his 16 passes defensed were the most in League history by a defensive lineman. Watt was named Associated Press Defensive Player of the Year and also earned First-Team All Pro and Pro Bowl recognition for the first time. He has started every game for the Texans after being drafted with the 11th overall pick two years ago.
QUOTES:
Attributed to Champ Bailey, CB Denver Broncos:
"This is a great opportunity to support the service men and women of our armed forces and bring attention to their efforts overseas."
Attributed to D'Qwell Jackson, LB Cleveland Browns:
"It's an honor to be a part of this USO tour. I think it's a great experience and an opportunity to speak first-hand and show our gratitude to our military. What they do for our country is something special and words can't express the appreciation that we have for the job that they do."
Attributed to Davin Joseph, Guard Tampa Bay Buccaneers:
"To get the opportunity to represent the NFL, the Buccaneers, and to really show how much appreciation we have for the troops that serve our country is a once-in-a-lifetime opportunity. I have the utmost respect for our servicemen and women and the things they do, the sacrifices they make for our country. To go out there, pay our respects to them, and see how we can brighten up their day is what it's really all about."
Attributed to Von Miller, LB Denver Broncos:
"I'm excited to represent the Broncos and the NFL on this tour and show my appreciation for the military personnel who serve our country."
Attributed to Steve Smith, WR Carolina Panthers:
"I am honored to have this rare opportunity through the NFL and USO to spend time with the men and women serving in our armed forces. Being able to visit with troops during their deployment, having the chance to shake their hands, look them in the eye and personally thank them for what they do is a privilege."
MULTIMEDIA:
USO Tour Photos: http://bit.ly/ZldPqE
USO Fact Sheet: http://bit.ly/Y3YoUi
About the USO
The USO lifts the spirits of America¹s troops and their families millions of times each year at hundreds of places worldwide. We provide a touch of home through centers at airports and military bases in the U.S. and abroad, top quality entertainment and innovative programs and services. We also provide critical support to those who need us most, including forward-deployed troops, military families, wounded warriors and families of the fallen. The USO is a private, non-profit organization, not a government agency. Our programs and services are made possible by the American people, support of our corporate partners and the dedication of our volunteers and staff.
In addition to individual donors and corporate sponsors, the USO is supported by President's Circle Partners: American Airlines, AT&T, Clear Channel, The Coca-Cola Company, jcpenney, Jeep, Kangaroo Express, Kroger, Lowe's, Northrop Grumman Corporation, Procter & Gamble, and TriWest Healthcare Alliance and Worldwide Strategic Partners: BAE Systems, The Boeing Company, Lockheed Martin, Microsoft Corporation and TKS Telepost Kabel-Service Kaiserslautern GmbH & Co. KG. We are also supported through the United Way and Combined Federal Campaign (CFC-11381). To join us in this patriotic mission, and to learn more about the USO, please visit uso.org.
# # #