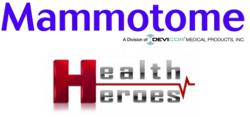 Cincinnati, OH (PRWEB) March 20, 2013
Health Heroes is proud to announce that Mammotome will be featured in an upcoming episode of Health Heroes.
Known for advancing breast biopsy technology, the Mammotome® Biopsy System allows doctors to achieve diagnostic confidence using a less invasive approach that offers women faster recovery, less scarring and lower costs of care as compared to open procedures. Mammotome, a division of Devicor® Medical Products, Inc. is the pioneer and global leader in vacuum-assisted breast biopsy. The Mammotome® Biopsy System is available in nearly 4,000 hospitals, breast centers, and physician offices worldwide.
Compatible with multiple imaging modalities, the Mammotome® Biopsy System enables breast biopsy to be performed under stereotactic x-ray, ultrasound, MRI or molecular imaging guidance. Mammotome offers a full array of tissue markers to mark the biopsy site for subsequent imaging studies and treatment guidance.
This particular episode will showcase advancements in breast biopsy technology. Health Heroes viewers will learn why more than 4 million women and their doctors have trusted the Mammotome® Biopsy system and how Devicor is continuing to develop breakthrough technologies for breast diagnostics.
"Participating in the Health Heroes program gives us a unique opportunity to tell the story of the impact that Mammotome has had on women's health, and how we are remaining at the forefront of innovation," said Tom Daulton, CEO of Devicor. "When it comes to breast biopsy, it's all about getting quality tissue samples to the pathologist to derive an accurate diagnosis. Our newest Mammotome® revolve™ system accomplishes that, and at the same time, allows for a faster procedure. Our Mammotome® elite™ system provides physicians performing ultrasound guided biopsy with the an ergonomic solution that's as easy and fast to use as a smaller, core needle biopsy while providing larger tissue samples for diagnostic accuracy."
"This technology is really helping revolutionize the way breast biopsies are performed. This outpatient procedure can be done under local anesthetic, and allows patients to return to normal activities directly following a biopsy," said Michele Nehls, producer for the Health Heroes series. "I'm proud to be able to bring this information to our audience."
About Mammotome:
Mammotome, a division of Devicor® Medical Products, Inc., is focused exclusively on medical technologies that improve patient experiences and outcomes. Mammotome remains committed to its heritage of advancing technology for early detection of breast cancer, providing support and education for clinicians worldwide, and offering breast care information for patients. The company is headquartered in Cincinnati, Ohio, and the Mammotome brand is marketed in over 50 countries globally.
For more information, visit: http://www.mammotome.com or call 513-864-9000.
About Health Heroes:
Health Heroes is a powerful TV series dedicated to defining and exploring today's latest medical advances in all areas of health and wellness. Written with both the industry professional and television audience in mind, Health Heroes educates, entertains and enlightens the lives of our viewers.
For more information visit: http://www.dmgproductions.org or call (866) 496-4065.
Media Contact:
Michele Nehls, Senior Producer
(866) 496-4065 to 822