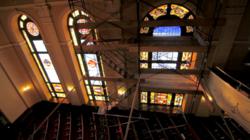 Brooklyn, NY (PRWEB) March 19, 2013
Oasis Energy and East Midwood Jewish Center partner to raise funds to repair storm damaged stained glass windows.
Since 1924, the East Midwood Jewish Center has been a source of meaning and inspiration for thousands of people around the world.
The East Midwood Jewish Center is a historic Renaissance Revival building on Ocean Avenue in Brooklyn and is on the National Register of Historic Places. The sanctuary is capped with a magnificent stained glass dome and 12 three-story tall stained glass windows.
The dome and the two largest windows, have suffered tremendously as a result of age, as well recent storms such as Superstorm Sandy. The windows are currently under repair with the help of a matching grant.
Oasis Energy has made an immediate contribution of $1,000 towards the EMJC Stained Glass Window Project and is contributing additional funds for each new electricity and natural gas account that enrolls using promo code "EMJC". An amount of $25 for each electricity enrollee and $10 for each natural gas enrollee will be donated towards the project.
Oasis Energy is proud to participate in the revitalization of the East Midwood Jewish Center.
For more information about the EMJC stained glass window project visit: http://oener.gy/stainedglassproject
Oasis Energy is committed to giving back to the local communities they serve. Participating in community improvement projects, charity efforts, environmental awareness, and energy efficiency campaigns.
About Oasis Energy:
Oasis Energy is a leading supplier of electricity and natural gas to residential and business customers in New York, Pennsylvania, Maryland and Illinois. Offering competitive pricing on fixed and variable rate energy products. Oasis Energy aims to be a low-cost/high-value provider bringing energy cost savings to customers in every market they serve.
For more information on Oasis Energy's electricity and natural gas service visit: https://www.oasisenergy.com