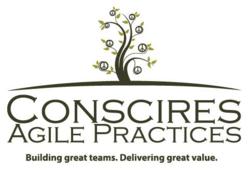 Irvine, California (PRWEB) March 19, 2013
Trainings are aimed at instilling the core beliefs of Agile and Scrum, and creating a transparent and collaborative environment where the team succeeds as a single entity. Conscires provides a wide breadth of Scrum/Agile training courses for all levels of interests and budgets.
Certified Training
Conscires Agile Practices offers Scrum Alliance designated trainings, upon completion of which the attendees will be eligible to a take an evaluation for obtaining the certification.
Certified ScrumMaster Training: Two-day, experiential course aimed at conveying:
Scrum in Practice
Essence of Scrum
Mechanics of Scrum
Scrum Tools
ScrumMaster Skill Set
Certified Scrum Product Owner Training: Two-day course specifically focused on the duties of a Product Owner:
Identifying sources of business value and using for feature prioritization
Understanding customers and users
Building and maintaining a product backlog
Release planning
Non-Certified Training
Conscires offers one-day training courses for those interested in learning more about scrum but are not willing to commit to a full course or those who want to supplement Agile education. Conscires recommends training for organizations beginning an Agile adoption or needing to train 20 or more employees and individuals seeking specific Agile knowledge (framework overview, in a variety of Agile topics covers skills needed by Agile champions, ScrumMasters, Product Owners, Agile managers and team members). Conscires conducts public and private non certified training.
Please see the following website for public & private training courses that Conscires offers: http://agile.conscires.com/agile-trainings-workshops/.