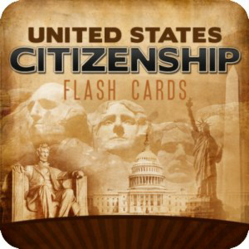 Portage, MI (PRWEB) March 20, 2013
Learning Gems has taken a new angle with their latest app release, United States Citizenship Flash Cards, which is geared towards those working on establishing United States citizenship.
For those working on establishing United States citizenship, one of the many criteria is to pass a 100-question exam. The exam features questions that test one's knowledge and understanding of history of the United States as well as our government. Thus, United States Citizenship Flash Cards from Learning Gems was created to help with preparing for this exam.
This app, United States Citizenship Flash Cards, is available in three different languages: English, Spanish and Tagalog and can be downloaded from the Amazon, Apple, Barnes & Noble or Samsung app stores as well as from Google Play for $.99 cents. The app features 100 questions that are presented on flash cards. Each time the app is accessed, the flash cards are shuffled and presented in a different order. Questions are related to those that one would encounter while taking the U.S. citizenship test, such as, "how old do citizens have to be to vote for president?"
Learning Gems, located in Portage, Mich., develops and designs educational apps. The organization is a collaboration of schoolteachers, graphic designers, programmers and copywriters that have worked together to build an array of educational apps. Topics covered include spelling, basic math, colors and shapes, U.S. geography, U.S. coins, matching games and more.
Learning Gems is a venture of Blue Fire Media. Blue Fire Media, also based out of Portage, Mich., is a web design and Internet marketing company. Blue Fire Media has created websites for companies in numerous industries including food and beverage, health and fitness, dental, travel and more. The company's team of programmers, graphic designers and copywriters work together to develop websites that are search engine optimized and user friendly. For more information, visit the company's website.