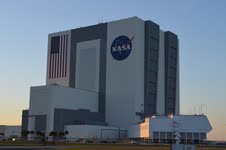 Miami, FL (PRWEB) March 19, 2013
Recognizing the importance of social media in informing the world about its revamped space program, NASA selected AMGW Agency to cover the commercial SpaceX 2 rocket launch on March 1.
"It was an honor for our digital team to cover the this remarkable event," said Edward de Valle II, Global CEO of AMGW Agency, which provides comprehensive digital, media buying, and public relations services, including social media marketing, corporate communications, strategic planning and promotions.
Jessica Hochstadt, MS, Social Media Community Manager, traveled to Kennedy Space Center as one of only 41 users who were given behind-the-scenes access to NASA facilities to cover the privately funded mission, which delivered 1,268 pounds of supplies to the International Space Station (ISS). The Space Station is scheduled to splash down in the Pacific Ocean on March 25 with science samples from human research, biology and biotechnology studies, physical science investigations, and education activities.
"I had spent many years wishing to be an astronaut, until calculus proved to be my arch nemesis," said Hochstadt. "After graduating as a scientist, I held on to the hope that maybe one day I could at least work with astronauts. This hope dwindled when I switched careers into social media. But that combination of science and media experience opened the door to this wonderful opportunity."
Hochstadt was stationed with an exclusive group of media and the social media team four miles away from the launch pad. "As the rocket disappeared into the clouds, I couldn't help but think of the privileged few that have made that journey into space, and the many heroes we have lost in the process," she said.
The SpaceX event, which was called #NASASocial, included a tour of the NASA facilities and press conferences with Gwynne Shotwell, President of SpaceX. Hochstadt had a one-on-one interview with her, and with Ken Carr, Program Integration Manager for NASA's Launch Services Program, Lisa Colloredo, Associate Program Manager of NASA's Commercial Crew Program, and Lori Garver, NASA's Deputy Administrator, who told her, "The space program is alive and well, and our best days are ahead of us."
About AMGW AGENCY
Since establishing AMGW Agency more than five years ago, CEO Edward de Valle II has strategically positioned the company to be among the region's premier digital, media planning & buying, and public relations agencies by expanding its global reach and services. Executing marketing strategies in all developed and developing regions of the world, the agency's core capabilities include strategic media planning & buying, comprehensive public relations, and communications, creative and interactive services. For more information, visit http://www.amgwagency.com, or email market(at)amgwagency(dot)com.
Media Contact:
Nicole Lewis
AMGW prworks
Ph:(786) 362-6500
Nicolel(at)Amgwagency(dot)com