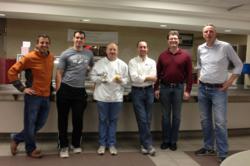 Most of us in the group are blessed in life, and we want to give back in some small way. Community is like anything; you get out of it what you put into it
Cary, North Carolina (PRWEB) March 19, 2013
No, they won't be wearing wingtips. Some Cary professionals will be shedding their suits in favor of work clothes this week and head out to the farm fields.
Cary bankruptcy attorney Dennis Sargent Jr. and other professionals from The Next Level BNI group in Cary will gather collards and other leafy greens Thursday morning in Rougemont.
About 12 members will "glean" the fields, a process of picking up what's left after harvesting machines are finished. The extra crops are taken to the Interfaith Food Shuttle and served at area soup kitchens.
"Last time we picked up more than 3,700 pounds of collards," Sargent said.
Sargent, who also drives a race car in his spare time, said the gleaning usually turns into a friendly competition — one he intends to win.
"We have such a good time out there, competing to see who can gather the most," he said. "It's so relaxing to get outside away from the office and put your hands in the dirt."
He and the other BNI members regularly volunteer either in the soup kitchen or the fields.
"Of course any volunteer work is rewarding, but it's truly amazing to first help gather the food and then see the people who benefit from your help," he said. "Most of us in the group are blessed in life, and we want to give back in some small way. Community is like anything; you get out of it what you put into it."
The group invites other business colleagues and friends to join them.
Sargent and the BNI team will glean starting at 9 a.m. at a field in Rougemont at the Brown Farm. They will meet at 8 a.m. at the offices of Inetgrative Chiropractic; 4089 Davis Drive, Morrisville, NC 27560.
About Dennis Sargent Jr
Dennis Sargent is a local race car driver and attorney at The Law Office of Dennis Jay Sargent Jr, PLLC. LODJS is a debt relief agency, helping people in the Raleigh metro area file for Chapter 7 or Chapter 13 bankruptcy relief under the United States Bankruptcy Code. They are a proud member of the National Association of Consumer Bankruptcy Attorneys and the American Bankruptcy Institute.