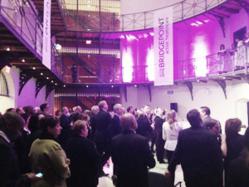 Impeccable Taste never lets me down. Once again I look great in front of the CEO.
Toronto Ontario Canada (PRWEB) March 19, 2013
On March 6, Toronto's Impeccable Taste corporate catering team wowed audiences with a stunning spread of international fare in celebration of Bridgepoint Hospital's new $60 million health facility and a symbolic Key Hand Over Ceremony.
Set in the remodeled rotunda of the historic Don Jail, the events, which included a morning buffet breakfast and key handover ceremony in the evening, were framed by a backdrop of rich Toronto history: the 10-storey 14 St. Matthews Road address.
Attendees of the evening cocktail affair included Diamond Schmitt Architects and
Deb Matthews, Minister of Health and Long-Term Care for Ontario
As President and CEO of Impeccable Taste Catering Toronto Rodney Kaufman prepared canapés, crudités and cumin-scented quesadillas next to the old gallows and jail cells, guests enjoyed antipasto, crab rolls with ginger-mango dip, chicken empanadas with fire-roasted green tomato salsa, applewood smoked salmon roulade on cucumber petals and a stunning station of award-winning Quebec cheese,
"The variety of flavours represents the diversity of people who will live and work at this unbelievably innovative new facility," says Kaufman. "Our goal was to represent the Atlantic to the Pacific and everything in between. I'm convinced that our corporate catering team has achieved that."
Hosted by Marian Walsh, President and CEO of Bridgepoint Health, attendees were also treated to performances by a local church choir as well as a talented brother-sister duo, who sang from the balcony of the rotunda.
"It's transforming a corner that was seen as fairly foreboding into a community resource," Walsh said. "By bringing back what was the old Don Jail to full and vibrant life, changing it from a site of incarceration to a site of innovation, as well as building the new hospital on the same plot of land, Bridgepoint is building on its master plan and reconnecting with the community."
For more information on the possibilities for excellence at your next Toronto corporate catering event, visit http://www.itcatering.ca.
Impeccable Taste Catering consistently delivers quality food that looks as good as it tastes. As far as catering services in Toronto, service, quality and presentation, like the name suggests, is impeccable, and each event is custom-tailored to suit the unique needs of each customer. Impeccable Taste Catering works with private individuals, companies and corporations in Toronto and the wider Greater Toronto Area markets. Services include expert event planning and catering for casual lunches, seminars, conferences, product launches, release parties, corporate affairs and weddings, among other social events. Born out of the philosophy that exceptional food must not only be meticulously prepared, but also artfully presented, our service offerings include colourful, eclectic and progressive menu options. Visit itcatering.ca for more details.