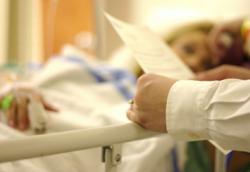 "Only 17% of nursing homes report having special program trained staff for palliative/EOL care, and similar number report staff training for hospice care."
New York, NY (PRWEB) March 19, 2013
As a follow up to its in-depth series on end-of-life and palliative care, ElderBranch is taking a close look at palliative care in long-term care settings – specifically, in nursing homes.
Nursing homes largely do a poor job when it comes to palliative care today. According to the Center to Advance Palliative Care, half of nursing home residents suffer from untreated pain. Comfort care and symptom management are lacking and hospice is under-utilized. With as many as 25% of people passing away in a nursing home setting, high quality support and care for the dying is critical in these environments.
Dr. Temkin-Greener, of the University of Rochester Medical Center, cites the lack of nursing home-specific palliative care practice guidelines, inadequate staff education and the failure to integrate palliative care practices into regular care as some of the key barriers to nursing homes offering high quality, comprehensive palliative care today.
Dr. Temkin-Greener is designing a study with 32 nursing homes in Upstate New York. The homes will be randomly assigned to either a control group (no change to status quo care) or a treatment group (palliative care to be incorporated). Ultimately, the study will compare outcomes for both the control group and treatment group, focusing on indicators such as pain management, shortness of breath, depression, and hospitalizations.
According to Dr. Temkin-Greener, nursing home leadership and commitment are critical to the success of these kinds of palliative care programs in nursing home settings. "Nursing homes that have agreed to participate in this project are already very committed and clearly interested in developing their palliative care skills and improving resident outcomes. But that commitment will need to be sustained over time and become a very important aspect of operations, regardless of the many competing needs that each facility is likely to face over time", she remarks.
This University of Rochester study is a promising step forward on the path to improved palliative care in nursing homes. Read the full article here.
About ElderBranch
ElderBranch is an online information portal that helps people find and evaluate long-term care providers. ElderBranch's mission is to support users in making the best decision possible for themselves and their loved ones.