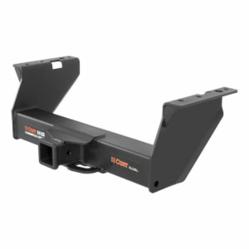 Eau Claire, WI (PRWEB) March 19, 2013
CURT Manufacturing, a leading manufacturer and marketer of top quality towing products, is pleased to announce they have improved their receiver hitch finish at their U.S. manufacturing facility by becoming the first company in the market to use Aquence technology (A-coat). A-coat is a revolutionary finish and an award winning green technology.
CURT has always used a high-quality powder coat finish that is applied after sending welded hitches through multiple stages, including a shot blast, wash and preparation system. This process results in such a clean surface that CURT can apply an attractive, high-gloss black powder coat. Now, each hitch is also dipped in a liquid A-coat before it receives CURT's powder coat finish. The two coatings then co-cure together in the finishing oven, providing the most rust and chip resistant hitch available. CURT hitches now contain an opening in the frame allowing the A-coat to cover the hitch from the inside out, further protecting the product from rust and corrosion. View the CURT finishing process video here: http://www.curtmfg.com/lp/7/A-coat
The addition of A-coat finishing does not only improve product quality. A-coat is an award winning green technology. It won the 2010 Automotive News Pace Award for its environmental benefits as the technology reduces a company's production footprint by up to 40% versus the more common E-coat process that many manufacturers use. This substantially reduces energy usage. Additionally, independent salt spray tests show that A-coat is more rust and chip resistant than E-coat, making CURT's addition of the A-coat process a win-win decision.
About CURT Manufacturing: CURT is a leading manufacturer and marketer of top quality towing products. The company offers American-made, custom fit receiver hitches and wiring harnesses for nearly any vehicle on the road. They also market a broad range of trailer hitches, towing systems and related accessories. CURT is 'The First Name in Towing Products' for automobile and truck hitches, as well as RV, gooseneck and commercial towing systems. Products are marketed through retailers, distributors, installers, and e-tailers across the U.S. and Canada. CURT employs hundreds of associates, primarily at their manufacturing facility and corporate headquarters in Eau Claire, Wisconsin. CURT operates 10 regional warehouses, each carrying over 2,500 items and has been twice named a Wisconsin 'Manufacturer of the Year'.
For additional information on CURT products, click http://www.curtmfg.com/lp/7/A-coat or call toll free at 1-877-CURTMFG (287-8634)
Media Contact: Fayne Peck
fpeck(at)curtmfg(dot)com
715-838-4146