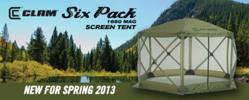 Pops up in seconds!
Medina, Minnesota (PRWEB) March 18, 2013
Utilizing the same materials and rough-and-tough durability of the Six Pack ice fishing shelters, Clam Corp brings a quality, easy-to-set-up screen tent to market that will hold up in gale-force winds. Campers young and old will be thrilled with the 45-second pop-up and take down notorious for hub-style structures. No more loose pieces or fumbling with printed paper directions in the dark holding a flashlight. With this screen tent, just a handful of tugs on the six hubs is the ticket. It's up in seconds and you're the hero. That means the family is quickly inside, away from the bugs when arriving at a campsite at dusk. Even the no-see-ums won't penetrate the fine mesh material to help keep the whole family from irritating bites.
All the hardware is of the same, rugged quality of the on-the-ice Clam experience—using the same sturdy tent stakes and tie down ropes. "We didn't skimp one bit on this," said Nick Chiodo of Clam Corp. "This is the best quality screen tent on the market, above and beyond the usual screen tent." The Six Pack 1660 Mag screen tent will enjoy some retail availability in outlets other than traditional Clam shelters such as lawn and garden and hardware stores.
The Six Pack 1660 Mag screen tent is large enough for a picnic table inside. Three wind panels are a great addition if the weather is coming in from a particular direction. Includes an oversized carry bag and folds up into the bag in a snap. Made of 210 Denier fabric, this is a high-quality, durable screen tent with triple layer corner pole pockets. The extra large, flex-test fiberglass poles are 11 mm thick and work in tandem with the quality hub-style assemblies. The tent enjoys 94 total square feet of interior space with a 90" center height clearance and measures 140" x 140". The fully stowed weight is an easy-to-manage 34 pounds.
For more information on Clam Outdoors go to http://clamoutdoors.com or contact Nick Chiodo at Clam Outdoors at 763-231-4138 or email nchiodo(at)clamcorp(dot)com.
## END ##