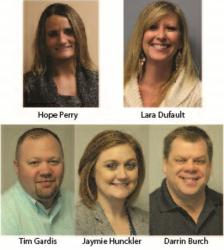 We are extremely excited with the newest additions to our team and the opportunities this affords us to provide an even higher level of client service.
Indianapolis, IN (PRWEB) March 20, 2013
Jackson Systems has added several new team members to their growing team. These additions will allow the company to better serve their growing client base and ensure they are consistently exceeding client expectations.
Hope Perry joined the team as accounting assistant. In her new role, Hope will assist with accounts payable and receivable, process rebates for contractor group members and assist the accounting team with day-to-day operations. Hope has her degree in science and arts from Lincoln Trail Junior College. She brings experience in project management and accounting to the Jackson Systems team.
Lara Dufault joined the team as a marketing assistant. Lara ensures requested literature and information is sent per client requests, manages marketing metrics, assists with client database management and supports the sales team in their efforts. Lara has a degree in marketing from Indiana University and joins Jackson Systems with a well-rounded background in marketing and promotions.
Jackson Systems has also added 3 new account managers to their ranks: Tim Cardis Jaymie Hunckler and Darrin Burch. These new team members will join the existing sales team to ensure the company is meeting the needs of its clients and providing the world class service their clients have come to expect.
Tim Cardis has an extensive background in sales, most recently in the electrical industry. Tim has experience helping contractors grow their business in a very competitive marketplace.
Jaymie Hunckler also brings a strong sales and marketing background to the team. She most recently worked as the district executive director for the Boy Scouts of America.
Darrin Burch joins the Jackson Systems team from the HVACR industry. Darrin brings experience in installation and servicing, as well as outside sales with a local HVAC equipment distributor.
"We are extremely excited with the newest additions to our team and the opportunities this affords us to provide an even higher level of client service," stated Tom Jackson, CEO. Jackson Systems now has 38 employees and was recently named one of 2013 Best Companies to Work for in Indiana.
###
About Jackson Systems:
Jackson Systems is a leading direct-to-contractor HVAC controls manufacturer and distributor. Founded in 1997, Jackson Systems today is one of the fastest growing companies in the Midwest, serving customers worldwide.
We produce innovative products for the commercial and residential markets. Ease of installation is built into every design, providing the most contractor-friendly products in the industry. Strong technical support and free same-day shipping are the cornerstone of our excellent client service. Jackson Systems is "Controls Done Right."
For formal quotes, design assistance or additional information, visit http://www.jacksonsystems.com or call 888-652-9663.