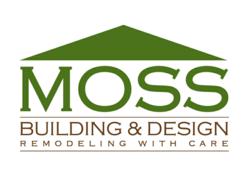 Our pledge of taking care of our clients throughout the entire remodeling process aligns with Erins customer first philosophy
Chantilly, VA (PRWEB) March 19, 2013
Moss Building and Design, a family owned home remodeling company in Chantilly, VA, is proud to announce the appointment of Erin Hoopes as Principle Designer Kitchen and Bath Manager.
Erin has been designing kitchen and baths in Northern VA since 2005, however her love for home improvement started at a very young age. She grew up in a historical house in Old Town, Alexandria where she and her parents renovated every room in their home.
"Her dedication and the enjoyment Erin gets from working with clients is exactly what Moss stands for," says co-owner Jason Hampel. "Our pledge of taking care of our clients throughout the entire remodeling process aligns with Erins customer first philosophy."
Erin received her Bachelor of Fine Arts from James Madison University in Harrisonburg, VA. She began interning as a kitchen and bath designer in Northern Virginia and immediately fell in love with it. She received her degree in Interior Design and has been designing kitchens and bathrooms in Northern VA ever since.
Moss continues to meet the demand for kitchen and bathroom remodels with a well equipped staff whose dedication and customer service continues to reign superior in the industry making Moss a Super Service Award winner on Angie's List for the last three years.
Although the construction of the renovation is important, Erin truly focuses her energy on the homeowners and providing them with an enjoyable experience from start to finish.
"I enjoy working with clients and I enjoy creating beautifully designed kitchens that are functional at the same time," Erin remarked. "The best advice I've ever received was from my parents and that was to know, at the end of the day, that you had done everything in your power and exhausted every option to make your clients happy," Erin says with a smile.
Homeowners wishing to learn more about Moss' remodeling services in Virginia; including additions, kitchens, baths, basements and home services, or would like a free consultation, are encouraged to contact Moss or visit the company website at http://www.mossbuildinganddesign.com.
About Moss Building & Design and Moss Home Services:
For home improvement in Northern Virginia, you can count on Moss Building & Design. Moss Building & Design and Moss Home Services are an award-winning, family-owned residential remodeling and home services company located in Chantilly, Virginia.
Since 2001, we have established a reputation for excellence in remodeling additions, kitchens, bathrooms and basements and home services throughout Northern Virginia. Our customers see us as a trusted partner, and we are very proud of our exceptional 80% repeat customer and referral rates.
Moss Building & Design has won consumer awards from Angie's List and also has an A+ rating from the Better Business Bureau, as well as many industry building and design awards.
http://www.mossbuildinganddesign.com
http://www.mosshomeservices.com
Facebook: mossbuildinganddesign
Twitter: @MossBuildDesign
YouTube: MossBuildDesign
LinkedIn: Moss Building & Design
Flickr: mossbuildinganddesign
Pinterest: MossBuildDesign