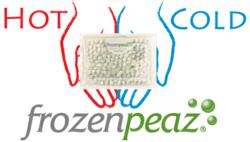 FrozenPeaz® meets a real market need. It is exciting to see the product concept go to market and how well Zemea® performs in the ClearIce™ solution.
- Dave Wood, product director, DuPont Tate & Lyle
Chicago, IL (PRWEB) March 19, 2013
Today, DuPont Tate & Lyle Bio Products joined with Etavonni Products to announce a novel application for Zemea® Propanediol in hot and cold therapy packs.
FrozenPeaz® products deliver flexible hot and cold therapy to relieve pain and assist in recovery from minor injuries or post-surgery rehabilitation. Benefits of this product include safe and non-toxic delivery of long-lasting hot and cold therapy, with flexibility like a bag of frozen vegetables. The Clear Ice™ Solution (made from Zemea®) is a natural, 100 percent plant-based alternative to petroleum and glycerin-based gels.
Zemea® propanediol is a natural, 100 percent biobased ingredient made from corn sugar through fermentation and developed for use in the cosmetics and personal care market. It is a high-performance, environmentally sustainable alternative to petroleum-based glycols and glycerin, where the product's lack of skin irritation, improved moisturization and excellent aesthetic properties are benefits. Zemea® is approved as a natural ingredient by Ecocert and the Natural Products Association; is certified 100 percent biobased by the U.S. Department of Agriculture and has both Kosher and Halal certifications.
About three years ago, MaryCarol Dolivier, the inventor of FrozenPeaz® therapy packs, was leaving work when the heel of her shoe got stuck in the metal grated stairs. She fell head first down the stairs. When she got home that night, MaryCarol used frozen vegetables to ease her painful bumps and darkening bruises. She quickly discovered that a bag of frozen peas leaks smelly green pea juice and isn't really reusable, as the bag refreezes into a crusty "pea iceburg." Her entrepreneurial spirit caught fire when she realized no one had made a therapy pack that combined all the positive attributes of traditional gel packs with the conformability of a bag of frozen peas. The original prototype used chemicals that were not environmentally friendly. MaryCarol was delighted when she heard about Zemea® propanediol, a 100 percent natural and environmentally friendly ingredient from DuPont Tate & Lyle Bio Products.
"It has been a great experience working with MaryCarol and Arthur on the product development," commented Dave Wood, product director, DuPont Tate & Lyle Bio Products Company. "FrozenPeaz® meets a real market need. It is exciting to see the product concept go to market and how well Zemea® performs in the Clear Ice™ Solution".
"Every start-up business has ambitions," said Arthur Blackwood, co-founder of Etavonni Products. "With the executive support of DuPont Tate & Lyle, self-belief, relentless pursuit and imagination, we believe we have developed a unique, simple and inimitable patent-pending product. Sometimes innovation is not only about thinking outside the box but about creating a new and bigger box to think inside."
Etavonni Products, headquartered in Chicago, IL, is a resource for entrepreneurs and imagineurs that believe they can build it better but need a little help. Etavonni, innovate spelled backwards, believes that wonderful things happen when you challenge your perspective. MaryCarol Dolivier and Arthur Blackwood founded Etavonni Products in 2011. Today, patent-pending FrozenPeaz® products are available online and through select physical therapy clinics. For more information on FrozenPeaz products, visit http://FrozenPeaz.com/products.
DuPont Tate & Lyle Bio Products is a joint venture between DuPont, a global science company, and Tate & Lyle, a global provider of ingredients and solutions to the food, beverage and other industries. DuPont Tate & Lyle Bio Products provides natural and renewably sourced ingredients that do not compromise product performance. For more information on the company's products, visit http://www.duponttateandlyle.com.
# # #
3/18/13
Zemea® and the circle logo are registered trademarks of DuPont Tate & Lyle Bio Products Company LLC.
FrozenPeaz® is a registered trademark and Clear Ice™ is a trademark of Etavonni Products.