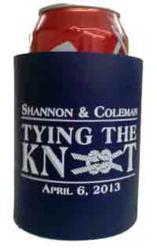 "We get many last minute orders from customers who ordered from another company, and either the quality was terrible, or the company did not fulfill the order. We wish they would have come here first, but we get them taken care of." Says Bob Liddle
Raleigh, NC (PRWEB) March 20, 2013
Kustom Koozies started out as the solution to a problem. In 1995 the owners Bob and Julie Liddle just wanted to be able to order a dozen can coolers with their boat name and their lake name. The least they could order was 200. This was way too many for their purpose, and they know others who would like to order a small quantity. So Bob spent 2 years testing and sampling methodologies to be able to screen print in small quantities at a cost effective price. Finally they figured out a way. So they started printing in the spare bedroom of their home. Customers learned through word of mouth, and started ordering. More customers ordered and Kustom Koozies out grew their spare bedroom. Fast forward to now with a 5,000 square foot production facility, a sales office and a dozen faithful employees. Kustom Koozies is an online success. Kustom Koozies sells primarily to the end user. They are often used for birthday parties, wedding favors, reunions, vacations and as promotional items.
"We use Kustom Koozies every year. We enjoy the service, the product is great, and it is just fun having an affordable keepsake." Says Mike M, of Columbus, Ohio.
This is one party favor that your guests will use for years to come, remembering the fun occasion they spent with you.
Kustom Koozies is one of the foremost internet providers of insulated beverage containers. These are used for a number of different occasions. Can coolers are used as party favors and are particularly popular for weddings, birthday parties, class and family reunions and are used quite often by businesses as a give away item.
Kustom Koozies provides 20 different styles to choose from. The two main categories are collapsible and foam. Collapsible can coolers are foldable and are primarily used for mailings, or easy transport. Foam can coolers are the best insulators and are sturdy and stackable. Kustom Koozies also offers wine wraps, full picture coolers, tumblers, and stadium cups.
Kustom Koozies has built their business on providing a quality product coupled with great service at a fair price. "We get many last minute orders from customers who ordered from another company, and either the quality was terrible, or the company did not fulfill the order. We wish they would have come here first, but we get them taken care of." Says Bob Liddle
Kustom Koozies provides hundreds of free great designs for parties and events. Some of their most popular are "to have and to hold and to keep your drink cold" and "A night we'll always remember, with friends we'll never forget". Customers are also able to upload their own graphics. Customers can use "Design On Line" feature to get the exact look they want. They are able to select their graphic, font, text and arrange it in any manner they would like.
If you are not sure what these can coolers are called, Remember, it's not koosie, koosies, koosey, kooseys, cozy, coozys, coozey, coozeys, coozie, cozies, coosy, coosys, coosie, coosies, coozey, coozeys, cozy, cozys, cozie or cozies … it's a KOOZIE®.
###
Kustom Koozies was founded in 1998 in the spare bedroom of the owners house. Kustom Koozies services over 6,000 customers annually. Kustom Koozies can be found at http://www.kustomkoozies.com or email us at nancy(at)kustomkoozies(dot)com or "Like" us on Facebook!