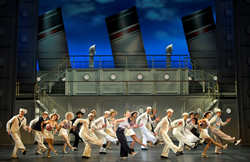 Durham, N.C. (PRWEB) March 20, 2013
The national tour of Roundabout Theatre Company's ANYTHING GOES, the new Broadway revival of Cole Porter's timeless classic musical theatre masterpiece, will make its Triangle premiere March 19-24 at DPAC as part of the SunTrust Broadway, 2012 / 2013 Season. In Thursday's performance, WTVD ABC 11's Barbara Gibbs will take the stage in a special walk-on role as with the cast's ensemble.
As co-anchor of the ABC 11 Eyewitness News in the morning and noon newscasts, Gibbs has covered all facets of the news, but her true passion lies in telling stories about the "positive power of the human spirit." From heartfelt stories to taking the Broadway stage, she delves into culture and human interest with absolute fervor.
Winner of the 2011 Tony Award® for Best Revival of a Musical, Roundabout Theatre Company's ANYTHING GOES sails direct from Broadway under the direction of Kathleen Marshall, who won the 2011 Tony Award® for Best Choreography, at the Stephen Sondheim Theatre following an opening in the spring of 2011. The New York Times calls it "a zesty new revival with knockout numbers and white-hot dancing" while the AP exclaims that it's, "so delightful, so delicious, so de-lovely!"
Along with Barbara Gibbs, the national tour features a stellar cast of Broadway veterans and newcomers:
Rachel York will star as Reno Sweeney and Fred Applegate will star as Moonface Martin. The principal cast also includes Josh Franklin as Billy Crocker, Jeff Brooks as Purser, Joyce Chittick as Erma, Alex Finke as Hope Harcourt, Dennis Kelly as Elisha Whitney, Vincent Rodriguez III as Luke, Marcus Shane as John, Sandra Shipley as Mrs. Evangeline Harcourt, Edward Staudenmayer as Sir Evelyn Oakleigh, and Chuck Wagner as Captain.
The ensemble includes Jeremy Benton, Jacqueline Burtney, Jan Leigh Herndon, Kristie Kerwin, Gary Lindemann, Dionna Thomas Littleton, Michael Milton, Ashley Peacock, Bobby Pestka, Courtney Rottenberger, Vanessa Sonon, Ryan Steer, Kristopher Thompson-Bolden, Aaron Umsted, Mackenzie Warren, Sean Watkins, Audrey Cardwell, Sara Andreas, Sean McKnight, and Tony Neidenbach.
Roundabout Theatre Company's ANYTHING GOES features music and lyrics by Cole Porter; original book by P.G. Wodehouse & Guy Bolton and Howard Lindsay & Russel Crouse; and new book by Timothy Crouse and John Weidman. The creative team includes music direction by Jay Alger with additional orchestrations by Bill Elliot, original scenic design by Derek McLane, costumes by Martin Pakledinaz, lighting design by Howell Binkley and sound design by Brian Ronan.
The National Tour of Roundabout Theatre Company's ANYTHING GOES is dedicated to the memory of Martin Pakledinaz, a beloved member of the Roundabout Theatre Company family.
Cole Porter's roundup of nostalgic hits in the production include "You're the Top," "Friendship," "I Get a Kick Out of You," "It's De-Lovely," "Blow, Gabriel, Blow" and, of course "Anything Goes."
The DPAC engagement of ANYTHING GOES will run the following performance schedule:
•Tuesday, March 19, 2013 - 7:30 PM
•Wednesday, March 20, 2013 - 7:30 PM
•Thursday, March 21, 2013 - 7:30 PM * Gibb's special appearance
•Friday, March 22, 2013 - 8:00 PM
•Saturday, March 23, 2013 - 2:00 PM
•Saturday, March 23, 2013 - 8:00 PM
•Sunday, March 24, 2013 - 1:00 PM
•Sunday, March 24, 2013 - 6:30 PM
Tickets start at $35 and are on sale now:
•Online at DPACnc.com
•DPAC Ticket Center: 919.680.2787, 123 Vivian Street, Durham, NC
•Ticketmaster.com/Ticketmaster Charge by Phone at 800.982.2787
ANYTHING GOES, the 1934 musical comedy about the lovers, liars and clowns on a transatlantic cruise is "a daffy, shipshape romp!" - Variety. When the S.S. American heads out to sea, etiquette and convention head out the portholes as two unlikely pairs set off on the course to true love… proving that sometimes destiny needs a little help from a crew of singing sailors, an exotic disguise and some good old-fashioned blackmail.
The New Broadway Cast Recording of Roundabout Theatre Company's ANYTHING GOES, nominated for a 2011 Grammy Award for Best Musical Show Album, is available on Ghostlight Records.