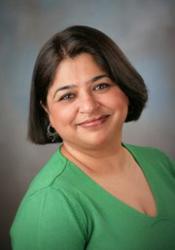 My passion as a broker springs from my own experience pursuing the American Dream.
Bloomington, IL (PRWEB) March 19, 2013
Crowne Realty LLC announces that Meenu Bhaskar, who has more than a decade of experience working with first-time home buyers, relocation, and investment
properties, has joined the company as the firm's newest REALTOR® Broker.
Ms. Bhaskar's interest in real estate started at an early age during her upbringing in India. In her youth she assisted her mother in decorating their home, including rearranging furniture and buying art pieces. This experience gave her an appreciation for the value and security of owning your own home.
"I've always believed that home is where your heart is," stated Ms. Bhaskar. "My passion as a broker springs from my own experience pursuing the American Dream. After I bought my first home in Bloomington, I realized that I could, too, help others find their dream home. I have a passion for real estate and working with my clients to find the perfect home. It's not just four walls but a special place where you invest your love and your energy."
Ms. Bhaskar has been working actively as a broker since 2002. She selected Crowne Realty as the next step in her career since the firm offers more choices to her sellers, and she has the opportunity to develop the right strategies to sell their properties. As a Realtor Broker for Crowne Realty, she is representing both local home buyers and sellers, assisting them in finding the perfect home to meet their family needs and financial prerequisites.
"Meenu brings a strong reputation from her previous work in the Bloomington market," said Daniel Carcasson, Managing Broker for Crowne Realty. "Her expertise and genuine passion to assist our clients will prove as a real asset to the firm. Her professionalism and commitment are an example to all realtors, demonstrating that dedication and hard work are the keys to success."
About Crowne Realty LLC
Crowne Realty LLC brings together real estate buyers and sellers together throughout central Illinois. The firm's professionals use the expertise of their brokers to help both buyers and sellers, providing consumers with the latest technology, a proven sales approach, and outstanding customer service. The firm serves as a resource and advisor in all real estate-related matters, staying current with the latest rules and trends, and with trends that affect both the national and local real estate markets. Crowne Realty LLC is a proud member of Leading Real Estate Companies of the World®.
For more information, please visit http://www.forsalechoice.com.