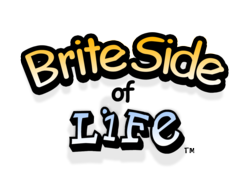 It's Time...To Put Your Smile On!
Cardiff By The Sea, CA (PRWEB) March 18, 2013
BriteSide of Life, an original series of 20-second animated features depicting positive social values ranging from courtesy and kindness to courage and determination, will be available for local television station carriage beginning April 15. The Season1 collection includes 24 light-hearted and inspiring episodes, each designed to be branded or bookended with advertising content.
BriteSide of Life is the latest syndicated product from MGN Online (http://www.mgnonline.com), America's premier distributor of still and animated graphics serving more than 600 U.S. television stations and other media outlets. The announcement of BriteSide of Life's upcoming debut was made today by Gill Davis, Founder and CEO of MGN Online.
Providing a new opportunity to increase local station advertising revenues, BriteSide of Life segments can be used either as sponsored inserts in news broadcasts or standalone short features elsewhere on the programming schedule. Family-friendly cartoon characters such as "Mom," "Papa," "Skater Dude," "Biker Guy," "G.I." "Professor" provide a consistently upbeat environment for advertising messages associated with BriteSide of Life episodes ranging from "The Strength of Sharing" and "The Power of Discovery" to "Contagious Good Deeds," and "The Key of Generosity."
"Given the often inherently negative nature of daily news content, BriteSide of Life is designed to inject positive messages and humor with universal appeal to both viewers and advertisers," said MGN Online's Mr. Davis. "We look forward to working with local TV stations to bring more of the 'BriteSide' to their audiences."
BriteSide of Life is being distributed on exclusive basis to one English-language and one Spanish-language station per market. An array of marketing support, including revenue-generating BriteSide of Life promotional items, will also be available for station use. Beginning March 18, MGN Online is offering current affiliates of its other programming content a 30-day, pre-release right of first refusal for its new BriteSide of Life series.
About MGN Online:
America's premier resource for still and animated graphics, MGN Online has a wide-ranging client roster of affiliates extending across television, online and print media. MGN Online serves newscasts, webcasts, newspapers, web radio and other news and information services 24/7 through its innovative content creation, storage and distribution facilities. MGN Online is a division of Multimedia Graphic Network Inc., founded in 1982 and based in Cardiff by the Sea, California.