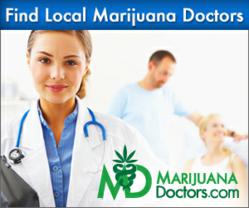 "We are honored and privileged to acknowledge the additions of four new canna-businesses to our already boundless clientele roster. Our company is proud to represent such compassionate medical health offices." - John Nicolazzo, C.O.O. of MarijuanaDoctors
(PRWEB) March 19, 2013
MarijuanaDoctors.com, the medical marijuana industry's first online search and booking platform for any services in pertinence to medical marijuana evaluations and a major subsidiary of The Medical Cannabis Network, has announced the additions of a number of new canna-businesses to their increasingly boundless roster. While finding the right physician can be a tedious and somewhat hectic task, MarijuanaDoctors.com takes all of the troubles out of finding you a doctor who best fits your specific needs. With an endless demand of inquiries from patients trying to see a physician to determine whether or not they qualify for a medical marijuana card, the individuals at MarijuanaDoctors are showing no signs of slowing down and are adding more and more reputable, trustworthy and professional canna-businesses daily. As the number one marijuana doctor locating website on the Internet, MarijuanaDoctors is showing no symptoms of losing their status as the most efficient.
Recent additions to MarijuanaDoctors' already bolstered roster include Chronic Releaf Certification Center, Cannabis Medical Consultants, Harbor Evaluations and Compassionate Health Options. All of the aforementioned canna-businesses are licensed and board-certified physician offices that are legally able to provide approved patients with a certification to apply for a medical marijuana card within their respective state. These medical health offices are of the utmost highest standing and have no history of legal action against or malpractice. MarijuanaDoctors.com has conducted many checks to make sure all clientele are reputable and conducting the most thorough and discreet services.
Chronic Releaf Certification Center is a medical marijuana location in the Southgate, Michigan region. This licensed and board-certified physician's office provides it's services in pertinence to medical marijuana evaluations, recommendations and certifications to inquiring patients who have qualifying chronic and debilitating conditions. Patients who are seeking a medical marijuana card in surrounding towns and cities such as Wyandotte, Lincoln Park, Riverview, Allen Park and Melvingdale, are all welcomed to utilize Chronic Releaf Certification Center as their first step towards receiving a Michigan medical marijuana card.
Cannabis Medical Consultants is a board-certified physician's clinic that is located in Paso Robles, California and acts in assisting all qualified patients within the processes of obtaining their California medical marijuana card. Cannabis Medical Consultants specializes specifically in issuing medical marijuana recommendations and certifications to all patients who fall under the approved list of chronic or debilitating conditions provided by the California state government. For inquiring patients located in surrounding cities such as Morro Bay, Pismo Beach, Grover Beach or Arroyo Grande, Cannabis Medical Consultants extends it's canna-related services with open arms.
Harbor Evaluations is a medical health clinic that features a licensed and certified physician who can recommend medical cannabis to qualified and approved patients. Harbor Evaluations is located in Costa Mesa, California and has established itself as a well-known and professional medical marijuana doctor. This particular clinic helps patients become more familiar with medical cannabis and help them understand the pros and cons of using it as an alternative medicine. For inquiring patients who are seeking an alternative treatment to their chronic or debilitating condition in the areas of Newport Beach, Huntington Beach, Fountain Valley and Irvine, this location services you as well.
Compassionate Health Options is Redding, California's finest medical marijuana doctor, and provides inquiring patients seeking medical marijuana as an alternative medicine with all processes leading up to the obtaining of a California medical marijuana card. Compassionate Health Options is a medical health facility that demonstrates a compassionate approach to medicine and carries itself with the utmost professionalism. Patients seeking the use of medical cannabis as an alternative treatment in the cities of Shasta Lake, Anderson, Red Bluff, Chico and Paradise California are more than welcome to utilize the personable services of this establishment.
With the addition of these well-respected, professional and efficient medical marijuana doctors to the MarijuanaDoctors family, MarijuanaDoctors is truly solidifying it's role as a leader amongst the medical marijuana industry. New clientele roster updates will be released nearly every day and will feature some of the most prominent canna-businesses.