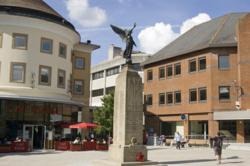 Even the most prosperous towns have felt the impact of the recession
UK (PRWEB UK) 25 March 2013
The latest Duport Town League table shows the top 100 UK towns for net company growth, with some surprising entries towards the bottom of the list.
Coming in at number 95 is the busy tourist town of Chester, which had just 0.32% net company growth during Q4. The table shows that Chester moved up and down the table throughout the year, rising to 10th place in the Q2 before dropping to 95th in Q4.
Affluent commuter town, Woking was another surprising entry in the bottom ten. It came in 99th in Q4, and was 100th during the rest of the year. This position is due to a record number of company closures during the 2012, which followed on from a record number of company formations during 2011.
There didn't appear to be any particular region that dominated the bottom ten; there were five southern towns, four northern towns and one midlands town in the lowest positions.
Managing Director of company formation specialists Duport.co.uk, Peter Valaitis commented:
"Our league table for net company growth saw some unexpected areas in the bottom ten, showing that even the most prosperous towns have felt the impact of the recession."
The full league table can be viewed at http://www.duport.co.uk/confidence-reports/town-reports.php, along with national league tables for other key business confidence metrics.
Duport Town League Tables are generated and released by Duport Associates Ltd. The data contained in these tables is assimilated and analysed by Duport using public record data from sources including Companies House, Office for National Statistics and Ordnance Survey. Duport Associates Ltd is a leading UK company formation agent, established in 1997 and registering around 10,000 new companies each year through its Companies House approved software.