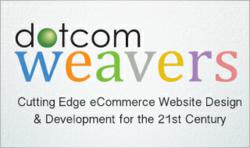 Paramus, NJ (PRWEB) March 19, 2013
Recently Voxware Inc., a NJ-based company with offices in Massachusetts and the United Kingdom, reached out to Dotcomweavers, the premier resource for New Jersey web design and development, with their new plans to offer online solutions for their customers in need of specific unit accessories and replacement parts. As a technology company that specializes in voice and communications solutions, Voxware Inc. targets businesses and organizations that require their team members to communicate efficiently in order to improve overall performance and customer satisfaction.
Dotcomweavers created an online eCommerce website, exclusive to Voxware Inc.'s enterprise customers only. This custom web application allows customers to enter the webstore with their own login and password, which gives them access to the units and accessories specifically used by their company. Once on the eCommerce website, users are able to select the units they normally use in their retail store or warehouse and then see all the related accessories and parts that are compatible with those units. From there, they are able to purchase anything ranging from replacement batteries to holsters and belt accessories to headsets using their online portal, eliminating the need for a phoned or faxed-in purchase order.
This solution not only streamlines the order process for Voxware Inc.'s customers, but also for Voxware internally. This is because Dotcomweavers focused on building a robust admin system; a Content Management System where Voxware's web administrator is able to manage hundreds of products, customer specific details such as exclusive pricing, exclusive units and parts, and customer shipping information –including state, county, and city tax code management. This was all achieved through coding of a custom web application. The result was easy to use bulk uploading of data spreadsheets.
Thanks to Dotcomweavers' web development team, Voxware Inc. doesn't just have another business channel to offer to their customers, they now have the ability to easily manage their customers, orders, and the products on their website faster and more efficiently than with a standard eCommerce solution.
About Voxware Inc.
Based in Hamilton, NJ, with a presence in Massachusetts and the UK, Voxware Inc. is a technology company that caters to the communications needs of businesses and other organizations that seek to optimize the efficiency of their communications and improve customer satisfaction. Voxware Inc. is well known for its products, which are widely used by companies specializing in the retail sales industry and where employees commonly use devices and product scanners to manage large numbers of products and inventories located in both warehouses and retail locations.
About Dotcomweavers
Dotcomweavers Inc. is a Paramus, New Jersey-based web development company that focuses on advancements in Internet technology to provide attentive service and solutions for cutting-edge businesses in New Jersey and New York: web development, website design, e-commerce and internet marketing (SEO). Visit http://www.dotcomweavers.com or call (888) 315-6518 for more information about New Jersey website design and web development services provided by Dotcomweavers.