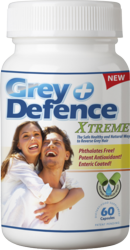 63% of users surveyed reported grey hair reversal.
(PRWEB) March 19, 2013
COORGA Nutraceuticals Corporation is pleased to announce the result of its first annual customer product evaluation survey. COORGA Nutraceuticals conducted a Grey Defence® review with a sample set of its clientele to determine the effectiveness of Grey Defence® as reported by them.
100 individuals were randomly selected to participate in this Grey Defence® review. They were selected on the basis of how long they used Grey Defence® (minimum 6-months) and whether they were still using Grey Defence® at the time of the survey. Ten questions were asked (see survey questions below).
Key findings: customers report reversals as low as zero (no results) to as high as 75%. Of those that responded, 63% saw reversal of their grey hair. A couple customers reporting grey reversals none-the-less registered disappointment at the pace (which begs the question, how fast did they expect it to work - those with unrealistic expectations of speed are almost certain to be disappointed) further, signs of reversals are strong indicators of the cessation of greying, essentially that greying has effectively stopped. For someone who just started greying this cessation is a valuable outcome, even more valuable than the reversal process itself.
Survey Questions:
1. Have you had any adverse reaction from using Grey Defence®?
2. What percentage, if possible to estimate, of your grey hair do you estimate has reverted to normal coloring (e.g. 1%, 5%, 20%, etc.)?
3. What is your age?
4. What is your sex (male, female)?
5. At what age did you start greying?
6. Is there a history of premature greying in your family (greying before 28st birthday)?
7. Do you have a history of thyroid illness?
8. Have you ever been diagnosed as Vitamin B12 deficient?
9. Would you recommend Grey Defence to a friend or family member?
10. Would you be willing to share your responses, with attribution, publicly on our website (i.e., first initial and last name)?
Click the link to view full results from the Grey Defence® review.
About COORGA Nutraceuticals Corporation
COORGA Nutraceuticals is a company focused on developing products for the anti gray hair market. The company also operates the Grey Hair Learning Annex; a resource for those looking for information on what causes gray hair.