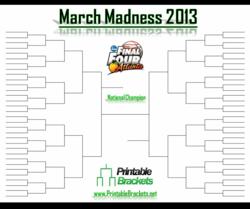 The term 'March Madness' has never been truer than it is this year
Scottsdale, AZ (PRWEB) March 18, 2013
The days sports fans around the country wait all year for is upon us as the 68-team field for March Madness 2013 has been revealed. Louisville, Kansas, Indiana and Gonzaga have been installed as the four #1 seeds for the NCAA Tournament. In honor of the "Big Dance," Printablebrackets.net has released a special, printable complimentary March Madness bracket.
"The term 'March Madness' has never been truer than it is this year," said Printable Brackets spokesman Zaniel Worth. "There are no less than 15-20 teams that have a legitimate shot to win the national championship, and navigating this year's brackets could be tougher than it ever has before."
Louisville was selected as the top overall seed after going 29-5. After trailing by 16 in the second half, Louisville went on an incredible run to blow out Syracuse, 78-61, in the Big East championship game on Saturday. The Cardinals will open the tournament at the home of the Kentucky Wildcats, who failed to reach the NCAA Tournament after winning the national title last year.
"There's no doubt Louisville is one of the elite teams in the nation," said Worth. "However, being ranked number-one has been a kiss of death throughout the season. The Cardinals know that as well as anyone based on their three-game losing streak in January."
Kansas captured the second-overall seed after rolling through the Big 12 tournament. The Miami Hurricanes won the ACC regular season and conference tournament title, but became the first school to do so and not earn a #1 seed in conference history. Miami, along with Duke, Georgetown and Ohio State, earned a #2 seed.
"The field this year is easily as deep as any other we've ever seen in the past," said Worth. "While traditional upsets will most assuredly take place, it will be difficult to really consider them to be upsets this year."
March Madness will begin with the "First Four" on Tuesday and Wednesday. The NCAA Tournament will run through the national championship game on April 8th.
For a complimentary March Madness 2013 bracket, a Sweet 16 bracket sheet, or for dozens of tournament and sports-related bracket, head over to Printablebrackets.net.