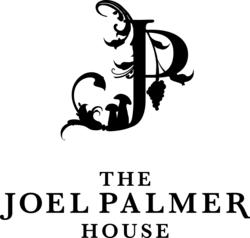 I want people to be wowed with presentation and service, but flavor is everything to me
Dayton, Oregon (PRWEB) March 26, 2013
The Joel Palmer House Restaurant, opened in 1997 by Jack and Heidi Czarnecki, has undergone a steady transformation over the last five years. Their son, Christopher, took over the kitchen in 2008 with the dream of continuing family tradition while evolving the menu to incorporate touches of modernist techniques.
Chef Christopher Czarnecki notes, "I want people to be wowed with presentation and service, but flavor is everything to me."
Chef Czarnecki has been committed to executing his dream and classics such as Heidi's Three Mushroom Tart have been newly accentuated by the addition of Oregon White Truffle "Snow". The Joel Palmer House's selection of sorbets and truffle ice cream are now made with liquid nitrogen, elevating the texture to a new, silky level, and too add flavor without overpowering, Chef Czarnecki adds wisps of cinnamon cotton candy to garnish sweet and savory dishes alike.
"The liquid nitrogen allows me to make the ice cream in a fraction of the time, at less cost than repairing the ice cream machine every year and makes a much smoother textured dish than before." Chef Czarnecki notes.
As a part of the generational evolution, The Joel Palmer House Restaurant has launched a new logo to reflect a sense of freshness with a nod to the past. Ashley Lippard of Newberg, Oregon created the new logo and brand identity, adding key elements to the design to acknowledge both past and present. The small mushrooms incorporated into the new logo once adorned Chef Christopher's grandfather's restaurant, Joe's Restaurant in Reading, Pennsylvania, while the grapes are a nod to the local Oregon wine industry to which the Joel Palmer House is intricately entwined: The Joel Palmer House wine list features over 600 selections exclusively from Oregon.
About The Joel Palmer House Restaurant
The Joel Palmer House's innovative and exciting menu features choice local produce, wild mushrooms and Oregon truffles. Chef Christopher Czarnecki and family strive to incorporate seasonal ingredients and use many locally grown vegetables, including many from their own on-site garden. Chef Christopher Czarnecki has created a tantalizing, creative menu that marries perfectly with the world renowned Pinot Noir of Oregon's Willamette Valley. Of note, the Joel Palmer House ranks as one of Oregon's finest historic homes and is on the National Register of Historic Places and the Oregon Historic Register. Built in 1857, the house is Dayton's oldest standing structure. When weather permits, guests can enjoy their dinner on our outdoor patio, soaking in the last rays of sunshine in the heart of Oregon Wine Country.