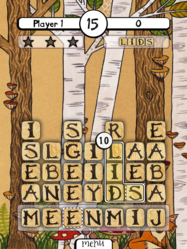 Interactive app combines classic word game features with social functions and hi-def
graphics
Austin, Texas (PRWEB) March 19, 2013
Tumblewords, a new word game developed by Minicore Studios LLC, officially launched this week in the iTunes App Store. The game features endless word-making possibilities and a host of adorable visual themes. Users can enjoy the game solo, or with a friend.
"This project has been a really innovative mix of both local and national talent brought together
by very solid game mechanics," said John Warren, Minicore Studios CEO and Founder. "Tumblewords offers a unique mix of artfulness, simplicity, and engagement that no other word game offers."
The app has a collection of unique custom designs made specifically for Tumble Words by notable artists KC Green, Liza Ferneyhough, and (coming soon in a new art pack) Chris Onstad.
"Early on we had the idea of doing one background with Liza Ferneyhough, a painter in the Bay
Area. Soon that turned into two backgrounds," said Warren regarding the continual creation of great new backdrops in the app. "The art went from being a background element to a real selling point for the game in just a few months."
In Tumblewords, players find words on the board and utilize letters in their hand to switch with the board letters. The game gets more challenging with the tumbling mechanic, where the board shifts placement after every turn. Every 50 points, users can Power Up to change, flip, or shuffle letters on the board. The game features both solo and paired play, so users can play alone or with a friend.
Players can make words in an endless combinations of letters next to each other, but unlike many games, there are no diagonal moves.
"We feel like Tumblewords would be far less challenging if you had the option to move diagonally." Warren explains. "This especially shines in two-player scenarios where long words give your opponent less room on the board to make similarly impressive plays -- there is real strategy when you're up against a human opponent."
Tumblewords is available for 99 cents in the iTunes App Store, and promises hours of word-finding fun. Minicore Studios will be displaying Tumblewords at the Game Developer's Conference in San Francisco from March 25-29, 2013 at kiosk K2.
Based in Austin, Texas, Minicore Studios LLC was founded in February 2011 with a
simple mantra "make games we love and you'll love them too." As a company and a team, Minicore is obsessed with unique narratives, characters, and settings.