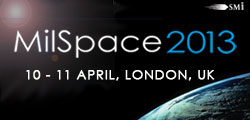 London (PRWEB UK) 19 March 2013
There is less than one month left until the annual event focussing on the latest developments within Military Space takes place.
The impact of countries and governments developing their own military space systems makes it even more necessary to stay up to date with the latest developments and technologies affecting the market. MilSpace 2013 will examine how the space domain is being utilized for both offensive and defensive means by those at the cutting edge of space technologies and will initiate discussion on how future missions will be won and lost in the outer atmosphere and beyond.
Industry experts are confirmed to attend from across the globe, including countries such as UK, US, France, Germany, Italy, Sweden and Belgium.
The event will feature over 16 presentations from the following speakers:

Group Captain Neale Dewar, HQ 1 Group, Space Control & Battlespace Management, RAF
Group Captain Al Byford, DCDC, UK MoD
Colonel Friedrich Teichmann, Director of the ICT-Innovation Department, Austrian MoD
Alan Burke, Chief, Integrated Air and Missile Defense, US Air Force Europe
Colonel Franck Scher, Joint Space Command, Ministry of Defence, France
Major Nicolas Stassin, Defense Development Capabilities/Space, Ministry of Defence, Belgium
Key topics to be addressed: will include Global Navigation Satellite Systems, Earth Observation Satellites, ISR, Missile Defence and Space Data. Attendees will have a number of networking opportunities and the chance to meet key industry experts during the many conference networking breaks.
For companies wishing to attend please visit http://www.military-space.com to register or contact the team on: +44 (0) 207 827 6054 or email jhitchen(at)smi-online(dot)co(dot)uk
---------ENDS-------
About SMi Group
The SMi Group is a highly professional, independent and global event-production company that specializes in Business-to-Business Conferences, Workshops and Masterclasses, and online Communities. The SMi Group creates and delivers events in the Defence, Security, Energy, Utilities, Finance and Pharmaceutical industries. For more information, please visit http://www.smi-online.co.uk