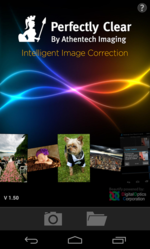 We listened to our customers and created an updated version that will greatly enhance their experience.
Calgary, Alberta, Canada (PRWEB) March 20, 2013
Perfectly Clear for Android, the fastest, easiest, and most accurate way to correct images automatically on Android mobile devices, just got a whole lot better. What's new:
1. Faster. It's now twice as fast opening and correcting images. Fine-tuning with the slider bars is near-real-time when using the latest quad core devices, such as those powered by NVIDIA Tegra 4 and 4imobile processors.
2. New, powerful memory mapped buffer for saving huge images (up to 40 MP).
3. A new look. The entire GUI has been completely redesigned.
4. Zoom. Now users can zoom into their photo to view the details as they correct.
5. One simple price. The beautify preset, is included in the app price so users only have to purchase once.
6. Bug Fix: licensing. Users can use Perfectly Clear "offline".
7. Now users can copy the app to their SD card.
8. Exif support. The app now retains Exif and GPS data.
9. Quick Correct. Tap the hardware menu button and selected images will be automatically corrected and saved without going to the edit screen.
"We were pleased with the response to our initial Android app offering, and are constantly innovating to make it even better," explained Brad Malcolm, President of Athentech Imaging. "We listened to our customers and created an updated version that will greatly enhance their experience."
"Athentech is delivering impressive speedups in photo processing by embracing the multiprocessing power of NVIDIA Tegra 4," said Neil Trevett, Vice President of Mobile Content at NVIDIA.
Malcolm added, "We look forward to even more impressive breakthroughs when we tap into NVIDIA's Chimera computational photography engine. It's a great time for digital photography on mobile devices."
Athentech Imaging President Brad Malcolm will take to the stage at NVIDIA's GPU Technology Conference (GTC) to discuss computational photography and image optimization processing during the Emerging Companies Summit: CEO On Stage portion of the show. The session takes place at 4:00 pm PDT on Wednesday, March 20, 2013, in the Marriott San Jose's Ballroom 4.
About Athentech® Imaging Inc.
Athentech® Imaging Inc. is an entrepreneurial, privately held company headquartered in Calgary, Alberta, Canada. The company is involved in three industries and markets: digital imaging, signal processing (for medical applications), and earth sciences. For more information, please visit http://www.athentech.com.