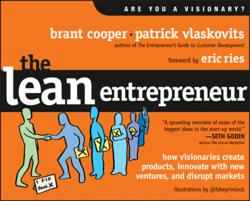 Hoboken, NJ (PRWEB) March 21, 2013
For far too long, the entrepreneurial community has been operating on a fallacy. Aspiring entrepreneurs, blinded by the belief that creating and putting out a good product is enough to find success, soon realize that an outstanding vision is not enough to create a sustained business. While companies continue to develop doomed products, this "Myth of the Visionary" stands strong: people will continue to believe that having a vision and acting upon it is enough to build a successful business. But this path that worked for the few notable visionaries, like Bill Gates and Steve Jobs, is the exception rather than the rule. Entrepreneurial visionaries are not born—they are made. Anyone can be a visionary. All they need is to know how.
In The Lean Entrepreneur: How Visionaries Create Products, Innovate with New Ventures, and Disrupt Markets (Wiley; $37.95; February 2013, 978-1-118-29534-2) authors Brant Cooper and Patrick Vlaskovits move beyond the myth, using their own entrepreneurial experiences to provide a four-step framework for building a business based on a product people actually want. Cooper contributes his experience as a startup thought leader and speaker, while Vlaskovits' talent as an entrepreneur and startup advisor brings an additional source of expertise to this illuminating book. Eric Ries began the "lean" movement with his book The Lean Startup, but Cooper and Vlaskovits use their entrepreneurial expertise to expand on these proven concepts, adapting them to suit the needs of the entrepreneur.
The Lean Entrepreneur serves as a universally applicable roadmap to success. Rather than simply explain the concepts, Cooper and Vlaskovits offer a wealth of supplementary materials to ensure that readers can understand how these concepts will improve their business. Enriched with case studies, illustrative graphics, worksheets, and skill-building exercises, the book is a comprehensive guide to evolving a vision and improving a company step by step.
Throughout the book, the authors cover a wide range of best practices for business success, teaching entrepreneurs how to:

Approach risk head-on
Test market ideas immediately
Foster stronger customer relations
Test different business model risks
Use powerful, low-cost analytics
Create a customer funnel based on buyers' processes
Eliminate unnecessary time and effort
And more!
The entrepreneurial world is known for being unpredictable, but Cooper and Vlaskovits show that it doesn't have to be. If armed with the tools necessary to create sustained business, visionaries can and will go far. As a must-read guide for any entrepreneur who wants to know exactly how to create innovative business, The Lean Entrepreneur is the perfect step-by-step guide to taking action and facilitating long-lasting change.
About the Authors:
Brant Cooper helps organizations big and small move the needle. His startup career includes Tumbleweed, Timestamp, WildPackets, inCode, and many others. He has experienced IPO, acquisition, rapid growth, and miserable failure. Brant previously authored The Entrepreneur's Guide to Customer Development, the first purpose-written book to discuss Lean Startup and Customer Development concepts, earning a distribution of over 50k. Brant has worked with hundreds of entrepreneurs across the globe and is a sought after speaker, having presented at leading companies such as Qualcomm, Intuit, Capital One and Hewlett-Packard. Brant is reachable @brantcooper. He lives with (and continuously learns from) his two daughters, Riva and Eliza, near Swami's in Encinitas, California.
Patrick Vlaskovits is an entrepreneur, mentor, and author. He has founded two startups, serves as CMO at Drumbi, and cowrote The Entrepreneur's Guide to Customer Development: A Cheat Sheet to The Four Steps to the Epiphany. His writing on debunking the origin of Henry Ford's "faster horses" has been featured in the Harvard Business Review, the Wall Street Journal blog, and The Browser. Patrick has spoken at tech conferences nationally, including SXSW Interactive (Austin, Texas), Michigan Lean Startup Conference, Lean Startup Machine San Francisco/Chicago/New York, as well as, internationally, The Turing Festival (Edinburgh, Scotland), Leancamp (multiple), and SVC2LX (Lisbon, Portugal). He tweets at @pv and blogs vlaskovits.com. Patrick enjoys advising (Drumbi, Chromatik) and mentoring and serves as a mentor for the 500 Startups and for The Lean Startup Machine.