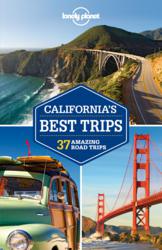 Oakland, CA (PRWEB) March 20, 2013
Lonely Planet's Best Trips series has a whole new look and feel-- and three brand new titles for road trip ideas in Europe. California's Best Trips, New England's Best Trips and Pacific Northwest's Best Trips are second editions of the successful series, packed with the best road trips for each region to suit any itinerary or interest. In addition, the new titles of Italy's Best Trips, France's Best Trips and Ireland's Best Trips are the first European destinations to launch in the series.
The Best Trips series offers both inspiration and practical information for travelers who want to explore by car. Each title contains over thirty amazing trips-- in full-color and with detailed maps-- ranging from two days to two weeks. Containing all the information one needs while on the road, the Best Trips series highlights local insider information, fun detours and Lonely Planet's favorite accommodations and dining along route.
Lonely Planet's authors scoured each destination to find the very best routes to include in each book. The selection covers a range of themes so that travelers can select a trip that suits their taste, whether it's relaxing on a beach, soaking up some history, enjoying fabulous food and wine or getting back to nature in the great outdoors. The books also highlight the best family-friendly journeys.
Especially important for Americans driving abroad, each of the Best Trips to European destinations contains a driving guide with essential information unique to the country: details on renting cars, insurance requirements, speed limits, road rules, language guides and what to do in case of an emergency.
This summer, throw the bags in the car and start exploring! Whether discovering the cuisine of Provence, driving the Ring of Kerry, braving the Amalfi Coast, or just wanting to find something new in the US, Lonely Planet has the perfect road trip guide.
Lonely Planet will create two free ebooks, which will contain trip itineraries from the Best Trips series. One will have three North American trips, one from each title; the other will have three European trips, one from each title. These will be available for free download on iBookstore starting April 2, 2013.