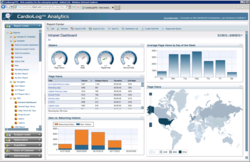 With the advanced API capabilities of CardioLog Analytics, customers are able to collect more data than they would have with other analytics solutions.
Boston, MA (PRWEB) March 26, 2013
Intlock is proud to present the CardioLog API Webinar, that will be held on Wednesday April 3rd, at 12:00 pm EST. The Webinar will showcase the enhanced CardioLog Analytics API with a special look at some of the features built for SharePoint 2013. The webinar will include:

Custom Reports - Using CardioLog's SDK, you can tap into the CardioLog database and create your own SharePoint Usage Reports.
Extended Tracking - With the Extended Tracking feature, you can monitor how portal visitors are engaging with client side actions such as button clicks and interaction with Flash or Silverlight.
Data Export API - Develop client applications to request data from the CardioLog reporting engine, and refine the results of the request using query parameters.
Custom Adaptor - With the Custom Adaptor, you can monitor any environment within a single web analytics UI, and only using one CardioLog license!
User Categorization - This feature can connect to almost any database you have, allowing you to filter reports by department, region, or other user attributes in the database; you can even view information on a specific user!
"With the advanced API capabilities of CardioLog Analytics, customers are able to collect more data than they would have with other analytics solutions. They can then leverage that data to create actionable reports, which in turn, help them take a proactive approach in improving and optimizing their intranet portals and website" Yarin Negri, Marketing Director at Intlock.
For more information regarding CardioLog Analytics API, register for the March Webinar,
Visit our web page for more information : http://news.intlock.com/cardiolog-analytics-reporting-api/
For more information on our events and webinars, please visit http://www.intlock.com/intlocksite/about/events/default.asp
About Intlock
Intlock was founded in 2005. Ever since, it has been a leader in analytical solutions for SharePoint Intranets and Internet websites. As the company's flagship product, CardioLog Analytics set Intlock apart and put it ahead of the competition. CardioLog provides organizations with insights on how their SharePoint portal is being used, and helps optimize the portal. As organizations started to expand, so did the use of SharePoint to public facing websites. A demand grew for marketing tools designed for SharePoint, which lead to the release of the SharePoint Marketing Suite, which includes a wide range of marketing solutions for enterprise-level websites.
Today, Intlock products support all of the SharePoint versions, including the new 2013 edition. They offer a variety of insightful features and tools to help optimize portal and site productivity, as well as maximize the ROI.
Intlock, based in Boston, Massachusetts, has offices and partners throughout the world. Some of the customers utilizing these products are large worldwide enterprises such as Applied Materials, Fidelity Investments, and US Department of State. We also offer a variety of packages for small business and NGO's.
# # #
If you would like more information about this topic, please contact Iva at +1-617-500-8461 (US) or email us at info(at)intlock(dot)com or iva.isakov(at)intlock(dot)com.