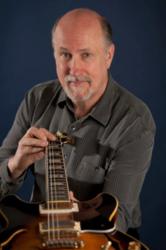 He (John Scofield) possesses one of the most unique guitar voices in modern music.
Fort Lauderdale, FL (PRWEB) March 18, 2013
South Florida's premier modern jazz organization is very excited to present John Scofield's Hollowbody Band on Saturday, April 13, 2013, at 8:00 p.m. This concert will take place at the Rose and Alfred Miniaci Performing Arts Center on the Nova Southeastern University campus, 3100 Ray Ferrero, Jr Blvd., Davie 33314. Tickets are $40 ($15 for students) and can be purchased from the Broward Center box office by calling 954.462.0222 option #4 or online at http://southfloridajazz.org.
"…He (John Scofield) possesses one of the most unique guitar voices in modern music." – Frederick Bernas, All About Jazz
" …the proper blend of grace and grit" -New York Times
John Scofield is one of the most influential and innovative guitarists of his generation. He has spent the last 40 years blazing a trail through the post-fusion wilderness, bringing his singular voice to a variety of different projects. His hallmark is his masterful improvising, and his music generally falls somewhere between post-bop, funk-edged jazz, and R&B. Scofield's résumé reads like a who's who of the last 40 years of jazz. After graduating from the Berklee School of Music, his first recording was with Gerry Mulligan and Chet Baker. He then replaced Pat Metheny in Gary Burton's band. Soon he would be performing with the likes of Charles Mingus, Billy Cobham, and Herbie Hancock, and Miles Davis, with whom he had an influential stint from 1982-85 that placed him firmly in the foreground of jazz consciousness as a player and composer.
Scofield has prominently led his own groups since then, creating a huge footprint internationally in the modern jazz world with his rock and blues influences. He has recorded over 30 albums as a leader, including collaborations with contemporary favorites like Pat Metheny, Charlie Haden, Eddie Harris, Medeski, Martin & Wood, Bill Frisell and Phil Lesh, a founding member of the Grateful Dead. Throughout his decades-long career, Scofield has punctuated his traditional jazz offerings with funk-oriented electronica, all the while keeping an open musical mind.
The Hollowbodies project offers Scofield the chance to play with one of today's great guitarists, Mike Stern, another prominent fusion player, joined by long-term collaborator Bill Stewart on drums and Ben Street on bass. The guitar has a huge tonal pallet and the Hollowbodies employ that pallet doubly featuring Scofield`s arrangements for the ensemble and the orchestral possibilities of guitars, acoustic bass and drums. The music is neither through-composed nor a hot licks contest. Improvisation is the key ingredient, as always, and the real magic comes in the interplay.
ARTISTIC PERSONNEL
John Scofield – electric guitar
Mike Stern – electric guitar
Ben Street – double bass
Bill Stewart – drums
The Rose & Alfred Miniaci Performing Arts Center is a part of the Alvin Sherman Library, Research, and Information Technology Center on the Nova Southeastern University campus. This acoustically exceptional 498-seat auditorium is equipped with state-of-the-art lighting and sound technology. The Miniaci enhances both the academic experience at NSU, as well as the cultural life of the community at large, through its academic seminars and arts programming.
For ticket information, please visit http://www.southfloridajazz.org or call 954 462-0222, option #4 in Broward or toll-free: 800-564-9539.
Funding for this organization is provided in part by the Broward County Board of County Commissioners as recommended by the Broward Cultural Council.