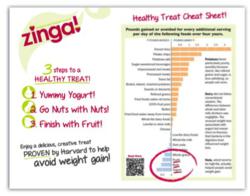 The Multi-Unit Franchising Conference is the perfect place to tell potential franchisees about our healthful concept
Las Vegas, NV (PRWEB) March 20, 2013
Sticking to a diet doesn't mean you have to give up a sweet frozen treat. In fact, Zinga! Frozen Yogurt is helping celebrate National Nutrition Month® in March by reminding consumers and potential franchisees alike that its basic self serve offerings promote weight loss, as reported in a Harvard study.
Here's how a typical Zinga! Frozen Yogurt creation aided in weight loss, according to the 2011 Harvard study:

Yogurt base: The "unusual weight loss" associated with yogurt led Harvard researchers to theorize that fat free and low calorie frozen yogurt aids in digestion since bacteria in the digestive tract was a weight loss influencer.
Nuts: high fat nuts actually helped people avoid weight gain according to the study.
Fruit Topping: The study indicates fruit as a factor in weight loss.
"The Multi-Unit Franchising Conference March 27-29 in Las Vegas is the perfect place to tell potential franchisees about our healthful concept," said Zinga President John Fitchett. "Our conversations with potential franchisees start with a concept that is creative and growing and include the advantage of offering consumers a healthy frozen yogurt treat that can also be advantageous to those seeking to maintain or lose weight."
"Zinga Frozen Yogurt meets consumers' desires for healthful alternative treats," he said, adding all of Zinga's frozen yogurt flavors meet the National Yogurt Association's criteria for Live and Active Culture yogurt.
Fitchett said Zinga Franchise Group has 285 stores currently in development in 12 states and recently celebrated its 17th store opening. He projects 20 more stores to open in 2013. He added that single and multi-unit territories were available.
National Nutrition Month is a nutrition education and information campaign observed annually in March by the Academy of Nutrition and Dietetics. The campaign focuses attention on the importance of making informed food choices and developing sound eating and physical activity habits. This year is the 40th anniversary of National Nutrition Month.
About ZINGA
Established in early 2011, ZINGA! "The World's Best Frozen Yogurt," is growing quickly in the self-serve frozen yogurt segment. Its franchise restaurant savvy leadership seeks successful franchise restaurant operators to become early entrants into the segment's fast-growing concept. Zinga President John Fitchett's lengthy career includes stints as area director, franchisee and vice president of development for large franchise restaurant chains.
For more information about ZINGA and franchise opportunities, visit http://zingafroyo.com
Source for chart, study: June 23, 2011, issue of the New England Journal of Medicine.