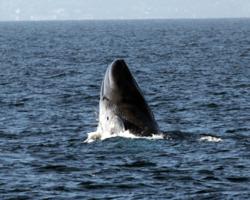 Dana Point is sometimes called the Whale Capital of the West.
Dana Point, California (PRWEB) March 25, 2013
Sometimes called the Whale Capital of the West, scientists believe that Dana Point may possibly serve as a reference "landmark" for whales and is a famous gathering area, attracting not only marine mammals but marine biologists and whale lovers from around the world. In celebration of the California Gray and Blue Whale's annual journey, The Ritz-Carlton, Laguna Niguel offers a year-round whale watching package. The Whale Watching Experience starts at $550 per night for garden/pool view accommodations and includes a two-hour whale watching excursion for two out of Dana Point Harbor.
From May through November, Blue Whales, the largest mammal ever to roam the earth, migrate to tropical waters to mate and give birth to their calves. The Blue Whale migration takes these amazing creatures past Dana Point, where the whales can be easily seen and photographed. Blue Whales are an overall blue-gray color and are long and streamlined. Their dorsal fins are extremely small, and their pectoral flippers are long and thin. Blue Whales are rorqual whales, a family of baleen whales with pleated throat grooves that expand when the animal takes in water while feeding. Blue Whales can be up to 100 feet long, weigh as much as 150 tons and have been found in every ocean of the world. They swim individually or in small groups, and they are commonly seen traveling in pairs. Approximately 2,000 Blue Whales live off the California Coast and migrate to Mexico, and Costa Rica. The historic population of Blue Whales, prior to commercial hunting, has been estimated at 200,000. Today there are anywhere from 5,000 to 12,000 Blue Whales in the world.
From January through April, California Gray Whales leave the cold Arctic seas and follow the coastline to the calm, warm waters of Southern California and Baja. This migration brings much of the pod past Dana Point. The Gray Whale is essentially black, but has a grayish appearance caused by the accumulation of marine parasites on their skin. They measure 30 to 45 feet as adults and weigh about a ton a foot. Gray Whales do not have a dorsal fin like other whales; instead they have a series of "knuckles" along the after portion of the back. The whales travel up to 12,000 miles every year from their feeding grounds in the cold arctic waters to the warm, shallow lagoons of Baja California where they mate and bear their young. Twice hunted to near extinction, the Gray Whale population has rebounded in the last 50 years to an estimated population of nearly 25,000 animals.
Resort guests can also learn about other marine life and the environment through the Eco-Adventure Center offering unique excursions that inspire participants with Southern California's unique ecosystems and connect their spirit to their larger global systems. Led by expert naturalists, the Eco-Adventure Center is dedicated to showcasing Southern California's natural wonders. Through the activities, the local surroundings become a natural classroom and living laboratory. Adults, families and kids learn through experience, which instills them with a deep appreciation and respect for nature. As well, they discover how to live more environmentally responsible in their own homes.
About The Ritz-Carlton, Laguna Niguel
Located halfway between Los Angeles and San Diego, The Ritz-Carlton, Laguna Niguel sits on a 150-foot bluff with panoramic white-water views of the Pacific Ocean and two-miles of sandy beach. The resort is a re-imagined surfside retreat that awakens guests' senses with its unique ocean-front setting and remarkable service heritage. As the premiere destination for travelers who desire a playful approach to Southern California luxury, the resort has been the recipient of many awards over the years, but is proud to boast earning AAA Five Diamond status for the 28th year, the longest in California. For more information or reservations call 800-241-3333, the resort directly at 949-240-2000, a travel professional or visit the web site at http://www.ritzcarlton.com/LagunaEcoAdventure.
About The Ritz-Carlton Hotel Company, L.L.C.
The Ritz-Carlton Hotel Company, L.L.C. of Chevy Chase, Md., currently operates 82 hotels in the Americas, Europe, Asia, the Middle East, Africa, and the Caribbean. More than 30 hotel and residential projects are under development around the globe. The Ritz-Carlton is the only service company to have twice earned the prestigious Malcolm Baldrige National Quality Award which recognizes outstanding customer service. For more information, or reservations, contact a travel professional, call toll free in the U.S. 1-800-241-3333, or visit the company website at http://www.ritzcarlton.com. The Ritz-Carlton Hotel Company, L.L.C. is a wholly owned subsidiary of Marriott International, Inc.