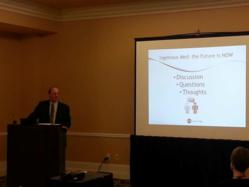 The days for rushed, scribbled handoffs or a quick phone call must end if patients are to be cared for safely.
Atlanta, GA (PRWEB) March 19, 2013
Dr. Glenn Focht, medical director of the pediatric physician organization of Children's at Boston Children's Hospital, spoke at a private reception, hosted by Ingenious Med, provider of the nation's largest multispecialty charge capture and physician performance solution, during the AMGA conference in Orlando.
A Robert Wood Johnson Award winner for excellence in teaching and commitment to primary care, Dr. Focht spoke to a group of CEOs, CFOs, medical directors and physicians.
Focht has been a vocal proponent of healthcare IT solutions in the past and has written white papers on the subject. His latest paper, titled "Closing the Safety Gap in Patient Handoffs," focuses on how technology can improve patient care by minimizing the amount of information lost during patient handoffs.
During his presentation, Dr. Focht covered several topics, including:

The challenges physicians face when managing care in busy hospital services with the growing demands for performance
The opportunities presented in these situations, both inside and outside the hospital
Current performance requirements and the barriers to achieving the required outcomes
Successful strategies for leveraging Ingenious Med's technology in order to effectively support clinicians
According to Focht, physicians must embrace and endorse the best clinical practices for effective handoffs.
"The days for rushed, scribbled handoffs or a quick phone call must end if patients are to be cared for safely," he said. "Hospitalized patients will experience less harm only when physicians are successful in managing the growing number and complexity of handoffs."
About Ingenious Med
Founded in 1999 by a group of practicing physicians, Ingenious Med is an award-winning platform that automates the activities of inpatient physicians. Ingenious Med automates the revenue and charge capture processes for more than 22,000 users in the nation's leading healthcare facilities. Ingenious Med's Inpatient Physician Management Platform is the nation's largest charge capture and physician performance solution in the healthcare industry today. The cloud-based, charge capture and analytics platform provides real-time data that helps hospital systems and physician groups improve physician productivity and efficiency, enhance quality of care, maximize revenue, increase billing accuracy and ensure compliance. For more information, visit http://www.ingeniousmed.com or call 404-815-0862.
###