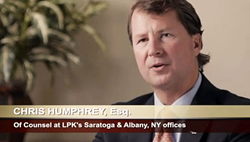 I am passionate about assisting fellow veterans and their families recover for their asbestos related injuries and I am proud to work with a firm that shares that passion.
NEW YORK, New York (PRWEB) March 20, 2013
The national mesothelioma law firm of Levy Phillips & Konigsberg LLP ("LPK") announced today that Attorney and Navy Veteran Chris Humphrey has joined the firm to further assist veterans and their families recover compensation in asbestos claims. Before pursuing a legal career, Mr. Humphrey completed ten (10) years of service as Nuclear Machinist Mate and Engineering Laboratory Technician in the United States Naval Nuclear Power Program where he specialized in the areas of nuclear chemistry, mechanical engineering, industrial hygiene, and hazardous waste management while serving on board nuclear submarines, land based nuclear facilities and in shipyards. He is a Persian Gulf War veteran and completed tours of duty on board the ballistic missile submarine USS Lewis & Clark (SSBN 644) and fast attack submarine USS Santa Fe (SSN 763). Mr. Humphrey completed his my military career while serving as an instructor at the Knolls Atomic Power Laboratory Nuclear Training Facility, located in Ballston Spa, NY, where he was awarded the distinguished Master Training Specialist Designation and Navy & Marine Corps Achievement Medal.
Mr. Humphrey's technical knowledge and training provides him with a distinct advantage in asbestos cases, and he is one of few asbestos litigation attorneys that has actually worked with asbestos products on board ships and in shipyards performing the same tasks that many of his fellow veterans performed. Chris commented, "I am passionate about assisting fellow veterans and their families recover for their asbestos related injuries and I am proud to work with a firm that shares that passion."
Each year over 3000 people are diagnosed with mesothelioma, a rare and aggressive terminal cancer caused by asbestos exposure. Sadly, approximately one-third of those diagnosed are military veterans that were exposed to the dangers of asbestos while honorably serving in our armed forces. Due to the long latency period associated with mesothelioma (20 to 50 years on average), veterans discharged decades ago are getting sick today.
Veterans serving in all branches of the military may have been exposed to asbestos due to the military's prevalent use of the deadly fiber from the 1930's through the 1970's. Indeed, the deadly material was used to insulate navy ships and submarines and asbestos was also used in the production of hundreds of component and repair parts such as such as valves, packing, adhesives, cables and gaskets. Despite information available to both the United States Navy and product manufacturers, asbestos continued to be used on Navy ships and installations for many decades without any warning being provided to Navy sailors or shipyard workers.
Service members of the Marine Corps, Army, Air Force and Coast Guard also may have been exposed to asbestos. While the use of most asbestos products in the United States was discontinued in the late 1980's, hundreds of military installations were left with asbestos flooring, ceiling tiles, insulation, asbestos cement, roofing materials, wires and other building materials. Asbestos materials were also used in military vehicles and aircraft in the form of brakes, gaskets, wiring and insulation. Service men and women were often called on to remove and dispose of asbestos products during building renovations and vehicle maintenance.
The closure and dismantling of military installations across the country and the decommissioning of ships and aircraft also potentially exposed more recent generations of service men and women to the hazards of asbestos. The men and women currently serving in the Middle East are also potentially exposed to asbestos due to the use of asbestos products in buildings that have been damaged or destroyed during the war.
While a veteran diagnosed with an asbestos-related disease may qualify for some payment by the United State Department of Veteran Affairs if it is established that the disease was service-related, such payments are relatively small and fail to fully compensate veterans for the devastating injuries caused by asbestos, including mesothelioma. The filing of a "VA claim" does not prevent a veteran diagnosed with an asbestos-related disease such as mesothelioma from seeking full compensation by filing claims with bankruptcy trusts and against solvent companies who made or sold asbestos products.
Navy Veteran Chris Humphrey and LPK fight for military veterans who have developed asbestos-related diseases such as lung cancer and mesothelioma. LPK is a national mesothelioma law firm with a proud history of more than twenty-five years. The firm was named the Plaintiff's Product Liability Law Firm of the Year by U.S. News and World Report for 2013; the firm is AV-Rated by Martindale Hubbell; and the firm's partners have each been recognized among the Best Lawyers in America and SuperLawyers.
If you or someone you know has suffered injuries as a result of exposure to asbestos or other dangerous products, please contact the mesothelioma law firm 24 hours a day, 7 days a week at 1-800-637-6529 or submit an online inquiry at the firm's website at http://www.levylaw.com.