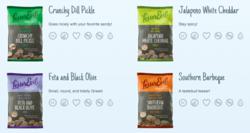 Wilton, CT (PRWEB) March 19, 2013
LesserEvil Healthy Brands, architects of the organic snacking experience, announces that more than 375 Stop and Shop locations in New England, New Jersey and New York will now carry Chia Crisps, one of two chia products to join their great-tasting healthy snack line up.
Chia Crisps landed on Dr. Oz's Ultimate Shopping List, and received much praise at the 2013 Natural Foods Expo West Trade Show in Anaheim, Calif. Stop and Shop has provided quality food at an affordable price to northeastern residence for nearly 100 years, and will now carry three distinct Chia Crisp flavors: Feta and Black Olive, Dill Pickle and Jalapeño White Cheddar.
"Stop and Shop is a household name and has been a part of my family for as long as I can remember," says LesserEvil CEO Charles Coristine. "It's wonderful to have our products on the shelves of a grocer that cares so much about what goes into their customer's cart."
LesserEvil Chia Crisps offer a healthy alternative to traditional potato or rice-based snack foods without compromising on the flavor. Made with black bean and milled with Salba® Chia, Chia Crisps offer a higher protein and fiber content than other chips. In addition, the chia seed provides a rich source of Omega 3, fiber, minerals, vitamin C and antioxidants.
LesserEvil's all natural, non-GMO and gluten-free Chia Crisps are now available at over 375 Stop and Shop stores. Visit the Stop and Shop website to find a location near you.
About LesserEvil Healthy Brands
LesserEvil Healthy Brands is a snack food company founded in 2004 with the mission to create natural, healthier snack food than many other snack foods on the market. The company's award winning all-natural snacks are produced without trans fats, preservatives, artificial flavors and colors, high fructose syrup and gluten ingredients that many other snack products use. LesserEvil's snacks are full of flavor, and still gives people a sinfully delicious treat without the guilt. LesserEvil has innovated the snack industry with their LesserEvil solution. They believe that life is about balance, and they don't believe in being perfect. LesserEvil vows to continue its mission to fight bad snacking with a little goodness. Join them in their journey towards a LesserEvil life.