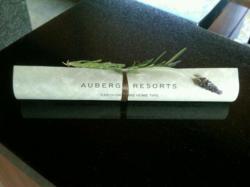 " We create unique programs and amenities for our guests to enjoy that celebrate earth month and honor our magnificent natural surroundings." said Caroline MacDonald, SVP of Marketing, Auberge Resorts.
Cabo San Lucas, Mexico (PRWEB) March 19, 2013
Esperanza, An Auberge Resort, an intimate seaside escape in Cabo San Lucas, has launched a collection of environmentally focused offerings in celebration of "Earth Month". Guests are invited to share in the resort's ongoing commitment to sustainability and observe "Earth Hour" on March 23 with candlelight massages, yoga and dining under the stars as well as additional unique "Earth Month" experiences offered throughout the month of April.
Esperanza's "Earth Month" programming includes:

"Tierra, Luna y Estrellas" Package – Guests can connect with the local land, moon and stars with a four-night stay in an Ocean View Garden Casita, two-and-a-half hour night sky astronomy tour, candlelit dinner and organic wine pairing for two, Cilantro and Jalapeño Mojitos and Jicama Trio upon arrival, private roundtrip airport transfers, complimentary breakfast for two and complimentary use of the resort's fitness facility and daily yoga classes for adults and children. Available until April 20, 2013 with prices starting from $2,665.
"Dining in the Dark" Experiences – Guests can experience an imaginative five-course meal designed to elevate the senses as they will be blindfolded and use their sense of taste, touch and smell to savor each course ("Dining in the Dark" April 5, 19 and 22 for $69; with wine pairings $95). Guests can also enjoy full moon dinners by candlelight at Cocina del Mar as well as an Earth-inspired green cocktail menu including the "Apple of Life" martini, "Lake Life" cocktail with vodka, wheatgrass and carrot juice and signature "Cabo Green" margarita with silver tequila, cucumber and cilantro.
Outdoor Astronomy Lessons – Guests can relax under the night sky with two-and-a-half hour outdoor astronomy tours held on the resort's private beach in Los Cabos, which is considered by NASA as one of the best places for star gazing.
Earth Day Spa Treatments at The Spa at Esperanza – Guests can unwind at The Spa with Earth-inspired candlelight spa treatments that use local ingredients in tribute to Mother Nature and also receive a special discount on the purchase of organic spa products.
Candlelight Yoga Classes – Guest yoga instructor Kari Ament of Core Power Yoga Minneapolis will be hosting a special candlelight yoga class during Earth Hour on March 23 for guests to enjoy a unique nighttime yoga experience on the beach surrounded by flickering flames and calming music. Guests can also enjoy candlelight yoga classes every Thursday at 6:00 p.m. at the resort's Yoga Studio.
Organic Garden Tours – Esperanza sources ingredients for its restaurants and bars from Chef Cerda's organic herb and vegetable garden, located in the Residences Club area of the property. The garden features a variety of seasonal produce including heirloom tomatoes, peppers, cucumbers, mango, papaya, green onion, rosemary, thyme, basil, cilantro, sage, and mint. Guests can enjoy garden tours and cooking classes with Chef, where they will pick herbs and vegetables to prepare authentic Mexican recipes.
"Green" Amenities & Services – For the entire month of April, Esperanza will be offering complimentary Earth-themed amenities and gifts for guests upon arrival as well as fun tips for green living at home.
Esperanza encompasses a 57-room resort, 60 privately owned villas, 36 private residences, a full-service spa and several signature dining outlets, located on the bluffs overlooking two private coves at Punta Ballena near Cabo San Lucas. The resort is a member of the prestigious Relais & Châteaux collection. For reservations or more information, please call toll-free 866-311-2226 or visit http://www.esperanzaresort.com. Follow Esperanza on Facebook at facebook.com/EsperanzaResort and on Twitter at @EsperanzaResort.
For more information on Auberge Resorts' commitment to responsible luxury, please visit http://www.aubergeresorts.com/experience/responsible_luxury.php
About Auberge Resorts
Auberge Resorts is a collection of exceptional hotels, resorts and private clubs, each with a unique personality that assures a memorable guest experience. While Auberge Resorts nurtures the individuality of each establishment, all are characterized by a set of communal elements: intimate, understated elegance; captivating locations that inspire exceptional cuisine and spa experiences; and gracious yet unobtrusive service. Among the Auberge collection of distinctive properties are: Auberge du Soleil, Napa Valley, Calif.; Calistoga Ranch, Napa Valley, Calif.; Solage Calistoga, Napa Valley, Calif.; Esperanza, Cabo San Lucas, Mexico; The Inn at Palmetto Bluff, Bluffton, S.C.; Hotel Jerome, Aspen, Colo.; the Malliouhana Hotel & Spa, Anguilla; and The Auberge Residences at Element 52, Telluride, Colo., and Pronghorn Resort, Bend, Ore., with several others currently in development. For more information about Auberge Resorts, please visit http://www.aubergeresorts.com/. Follow Auberge Resorts on Facebook at facebook.com/AubergeResorts and on Twitter at @AubergeResorts.