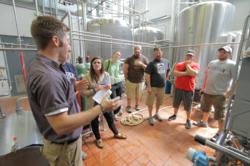 Many are small family farms which sell their products directly to the community, making them accessible to collaborate with chefs, winemakers, and brew masters in teaching participants about the Farm to Table movement in Chautauqua County.
Chautauqua, NY (PRWEB) March 20, 2013
The Chautauqua County Visitors Bureau in southwestern New York State announces the third annual Chautauqua in June, a learning festival held in the tradition of lifelong learning popularized by Chautauqua Institution more than 139 years ago. The new two-week schedule, May 31 – June 16, 2013, includes more than 20 different workshops in culinary, creative, and cultural arts and outdoor recreation with a special emphasis on celebrating Chautauqua's rich agricultural heritage, regional farms, and locally sourced food, wine and beer. Classes are held in both indoor and outdoor classrooms across Chautauqua County, the world's vacation learning center. Interested participants are encouraged to register early as several workshops tend to fill up quickly.
Experiences offered range from a two-hour Wine, Seasonings, and Food Pairing workshop at 21 Brix Winery to a two-day series of Farm to Table experiences with chefs from Chautauqua Institution's Athenaeum Hotel. For the second year, Executive Chef Ross Warhol will bring awareness to the Farm to Table movement, providing educational culinary experiences through a three-part series with dinners and a workshop in the field. On June 6th and 7th, Chef Warhol, Alex Gray and Marissa Love, all Culinary Institute of America trained chefs, will bring students through the Farm to Table culinary process, literally from gathering ingredients at local farms to sitting down to a formal five course meal in the hotel's parlor. Experiences over the two days include visiting local farms, sourcing ingredients, a tour and tastings at Southern Tier Brewing Company, a hands-on culinary class using the locally sourced ingredients, and the third annual spring Farm to Table Dinner.
Along Lake Erie, there are several events happening in the region known as America's Grape Country. With an information center, gift shop and tasting room opening Memorial Day Weekend, a new Grape Discovery Center in Westfield will showcase special tastings, product demonstrations, and lessons from the grape industry. In addition to the Seasonings class, 21 Brix Winery in Portland will offer an opportunity to Create Your Own Wine Blend. Liberty Vineyards in Sheridan and Cabana Sam's Sunset Bay Grill in Irving will each feature wine pairing dinners. Johnson Estate Winery will team up with Good Grass Farm and Chef Jonathan Haloua from western New York's only AAA four diamond restaurant, La Fleur, to offer a Farm to Table Brunch.
During one of the festival's most popular workshops, Southern Tier Brewing Company will once again offer the chance to be a Brewer for a Day, providing a hands-on experience from mash-in to knock-out at the brewing facilities in Lakewood. Participants will see how different malts change the color of beer and learn about the distinguishing characteristics of hops. At the Ellicottville Brewing Company's restaurant in Fredonia, Head Brewer Dan Minner will discuss the history of brewing, beer styles and how they pair with food during a Beer Pairing Dinner on June 13th.
Located in southwestern New York State, Chautauqua County is a diverse agricultural region, boasting the greatest number of farms of any county in New York State. Many of these are small family farms which sell their agricultural products directly to the community through farm stands and farmers markets, making them accessible to collaborate with chefs, winemakers, and brew masters in teaching participants about local foods, wines, brews, and the Farm to Table movement in Chautauqua County. Additional farm and food themed workshops during Chautauqua in June include an Introduction to Organic Gardening, a vineyard walking tour, and a culinary adventure based on wild and gourmet mushrooms.
Chautauqua in June is a learning festival promoted by the Chautauqua County Visitors Bureau and held in collaboration with area businesses, Chautauqua Institution, Jamestown Community College's Center for Continuing Education, SUNY Fredonia's Center for Lifelong Learning, the Chautauqua County Chamber of Commerce and the Department of Planning and Economic Development. Chautauqua County is located in the southwestern corner of New York State with New York's largest grape growing region, five lakes, Victorian and Amish communities, and Lucille Ball's hometown of Jamestown. For more information and a schedule of vacation learning events during Chautauqua in June as well as throughout the year, call 1-866-908-4569 or visit the Chautauqua County Visitors Bureau website at http://www.tourchautauqua.com.