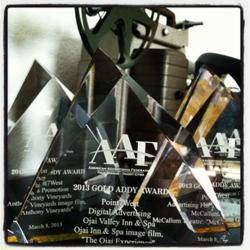 Being granted these awards and Best of Electronic Media is a validation that we've created effective videos which can be used across many media platforms, and that extend the branding and sales reach of our clients. - Steve Tharp, Art Director at P7W
La Quinta, CA (PRWEB) March 20, 2013
In an evening filled with celebration and recognition, full-service marketing video company Point7West was awarded seven ADDYs at the 2013 Desert Cities Ad Federation ADDY Awards. Consisting of five gold, and one silver and bronze award each, Point7West also received special honors with Best in Electronic Media for its marketing video produced for the world-renowned Ojai Valley Inn & Spa.
Point7West garnered Gold ADDY accolades for promotional and marketing videos produced for The Greater Palm Springs Convention and Visitors Bureau, Ojai Valley Inn & Spa, American Cab, McCallum Theatre, and Anthony Vineyards; a Silver ADDY for West Liberty University; and a Bronze ADDY for Wawanesa Insurance. The prestigious awards were won in categories such as Audio Visual Sales Presentation, Digital Advertising, Television Campaign, Regional National TV, and Advertising for the Arts & Sciences.
"Being granted these awards and Best of Electronic Media is a validation that we've created effective videos which can be used across many media platforms, and that extend the branding and sales reach of our clients. The ADDYs symbolize peer appreciation for the art and marketing strategy, making it a tremendous honor," said Steve Tharp, Art Director at Point7West. With a diverse range of clients, Point7West's award winning videos spanned from educational and recruitment videos to animated marketing campaigns.
The ADDY Awards are a three-tier national competition for advertising excellence. Entries reflect creative that aired or was published between January 1 and December 31st, 2012, and are judged by a distinguished panel of advertising creative executives. The annual event is presented by the American Advertising Federation (AAF) Palm Springs ⋅ Desert Cities, a non-profit organization of professionals dedicated to enhancing the advertising profession through fellowship, education, community service and public awareness.
ABOUT POINT7WEST
Point7West is a marketing video production company that has specialized in providing strategic video solutions for over 250 companies nationally and abroad, for more than a decade. Point7West produces award-winning, creative videos for business and other organizations in a wide range of industries.
# # #