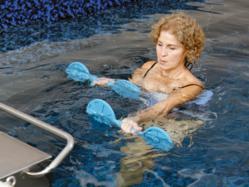 Endless Pools provide an ideal opportunity to offer swimming in compact spaces.
Las Vegas, NV (PRWEB) March 19, 2013
Endless Pools will attend the 2013 International Health, Racquet & Sportsclub Association (IHRSA) Convention & Trade Show at Mandalay Bay in Las Vegas, from March 19-22.
The company will bring their premier pool, the Endless Pool Elite, for visitors to observe and take for a test swim.
With thousands of attendees expected to flow through the doors of Mandalay Bay, Commercial Sales Manager John Satir is excited to show how the Endless Pool can transform a PT Clinic or Fitness Center.
"Endless Pools provide an ideal opportunity to offer swimming in compact spaces. Not only can they be used for swimming, but for water exercise and aquatic therapy as well," said Satir.
As swim schools and fitness clubs around the country find success with the Endless Pool, the market continues to grow for swim technique training for young swimmers, to college swimmers, to age group swimmers, to triathletes, to Olympians.
The Endless Pool is ideal for anyone learning how to swim, or trying to take his or her technique to the next level with one on one teaching.
Underwater mirrors and video analysis tools can be easily incorporated into the Endless Pools configuration, taking analysis to the next level with instant feedback.
In addition, the benefits of water exercise are a life changer for many who are unable to deal with heavy weights and high impact pressure on land.
An underwater treadmill, which provides variable speed aquatic walking, jogging or running, can be added to any Endless Pool. Through the buoyancy of water, this can cut stress and strain on knees and back, allowing runners to get work in without the pounding of the pavement.
Because of their modular construction, Endless Pools offer the opportunity for installation in both new and existing spaces. Satir recommends the Endless Pool as a perfect renovation opportunity.
"Some fitness centers are stuck with dead space. For example, consider a non-revenue generating racquetball court that gets minimal use. That space can be transformed into a source of revenue with Endless Pools and a new, compact aquatic center."
With a variety of sizes, depths and features in each of their commercial pool offerings, Endless Pools has a fit for any environment.
Once installed, the opportunities for growth are abundant, as the new aquatic environment has broad appeal for young and old alike.
An aquatic center can offer an excellent return on investment, and with Endless Pools' personalized Marketing Assistance, businesses can move forward with a plan for growth and profitability.
About Endless Pools:
Endless Pools, established in 1988, has served over 20,000 customers in over 80 countries, and offers compact, customizable pools for indoor or outdoor use. Their professional level Elite Model provides a sub :50/100 yard pace for the fastest swimmers. With a series of innovative, customizable products, the company has completed commercial installations around the world for swimming, water exercise, rehab and aquatic therapy use. Rigorously tested for safety, low-maintenance and environmentally friendly, Endless Pools has a product to meet virtually any need.
For more information, visit http://www.endlesspools.com or contact Rob Shaeffer at 610-497-8676.