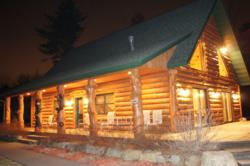 In times like these, an auction is the best way to establish what real market value is
KANSAS CITY, Mo. (PRWEB) March 19, 2013
Buyers have the opportunity of a lifetime to purchase a variety of Wisconsin investment, renovation and Wisconsin Dells vacation rental properties at auction prices. United Country – Badgerland Auction & Realty, in conjunction with United Country – Hamele Auction & Realty, will sell a variety of properties to the highest bidder during three auction events on Friday, April 26 and Saturday, April 27.
"Our sellers recognize the value of using an accelerated method of marketing – in other words, an auction – to sell their property," said Travis Hamele, broker, owner and auctioneer with United Country – Badgerland Auction & Realty. "What does this mean for buyers? It means they have the opportunity to purchase an outstanding selection of Wisconsin properties at the price of their choosing. Today's market conditions and the auction format allow sellers and buyers to come to a meeting of the minds quickly with a competitively achieved fair market value. In times like these, an auction is the best way to establish what real market value is."
The first event will begin at 10 a.m. on April 26 and feature a former high school on roughly 1.49 acres in Montello, WI. The building offers a brick exterior and about 30,000 square feet of space on three stories. It includes a large amount of parking and is currently zoned for commercial use and holds potential for multi-family, affordable or senior apartments.
The next auction will start at noon on April 26 and feature the Old Schoolhouse Restaurant & Bar on approximately 10.98 acres in the resort area of Merrimac, WI. The main building includes a historic church, school and jail under one roof. An additional freestanding building could be utilized as a gift shop and gallery, and a third building could be used as a manager's office/apartment. A railroad caboose on the property could be converted into a themed attraction.
The final event kicks off at noon on April 27 and will feature two fully furnished log homes on a golf course in the Wisconsin Dells. The first home offers roughly 3,276 square feet, five bedrooms, three and a half baths, half-log siding, custom hand-carved décor, interior loft, vaulted wood ceiling, gas fireplace, mounted flat screen TV, open kitchen, deck and fire pit. The second home available for bidding features five bedrooms, two baths, room to sleep 12 guests, rustic wood siding, custom hand-carved décor, two fireplaces, river stone hearth, finished basement, big screen TV, custom log entertainment center, pool table, whirlpool tub, front porch, deck and fire pit. Both homes have rental reservations into mid-2013 for built-in cash flow.
All events will be conducted onsite at each property location. Both April 26 events will also be offered online to Internet bidders. Preview times, additional property details, photos and terms and conditions can be found at UCBadgerlandAuctions.com. United Country – Badgerland Auction & Realty can be reached at 608-516-2414 or by email at ucbadgerland(at)gmail(dot)com.
About United Country
United Country Real Estate is the largest fully integrated network of conventional and auction real estate professionals in the United States and Latin America. The company has been an innovator in real estate marketing since 1925. United Country supports nearly 550 offices across the U.S., Costa Rica, Panama and resort areas of Mexico, with a unique, comprehensive marketing program that includes one of the largest portfolios of property marketing websites (more than 3,500 separate sites and traffic of approximately 3 million visitors per month), multiple United Country real estate catalogs and third-party lifestyle magazines with national distribution , an extensive buyer database and other national advertising of local properties that reaches more than 90 million homes per week. United Country has recently been recognized by Franchise Business Review, AllBusiness.com, The Land Report, Entrepreneur and The Wall Street Journal as one of the top U.S. real estate companies.