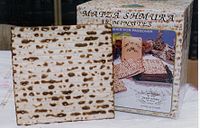 Respect Passover on your own terms
New York, NY (PRWEB) March 20, 2013
Sim Shalom, the online Jewish Universalist Synagogue is innovating again. They are offering a new concept to the world's liberal Jewish Community- "Respect Passover on your own terms" says Rabbi Blane.
Passover or "Pesach" in Hebrew is a Jewish Holiday observed for eight days. It serves as a time to symbolically remember the period in which Jews were slaves in Egypt. On the first two nights of Passover, Sedars are held to retell the story of the Israelites journey to freedom.
During Passover, Jews are not allowed to eat any chametz (bread and other bread products) which represent the Israelites being unable to let their bread rise before fleeing to freedom. It is for this reason that traditional Jewish families symbolically "sell their chametz" for the duration of the Passover Festival.
Sim Shalom is offering an online form that aims to create an agreement with the participant. The signer agrees to inspect their kitchen, sweep their home, use biodegradable paper plates and utensils and to refrain from eating bread and bread products by making chametz unavailable.
More traditional homes go into far greater lengths to observe Passover. For instance, the entire house must be scoured and cleaned, pots and pans are traded for a different set used only for the holiday and any bread products are "sold."
While respectful and understanding of these practices, Sim Shalom also appreciates the need for a less arduous approach to Passover. Many liberal Jews feel overwhelmed by the process and Sim Shalom has come up with an alternative. They feel that by sweeping the kitchen, hiding the chametz and refraining from eating the prohibited foods the Holiday can still be observed and respected.
About Sim Shalom:
Sim Shalom is an online Jewish Universalist Synagogue whose mission is to nurture a Jewish connection through innovative services, creative education and dynamic outreach to the global community. They offer Services Monday through Friday live online at 7 p.m. EST. Information regarding all of these services can be found at http://www.SimShalom.com
Rabbi Steven Blane can be contacted at 201-560-2936
Email: rabbisteve(at)simshalom(dot)com