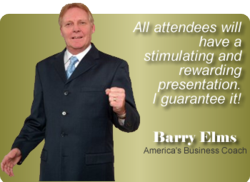 Make your next meeting or convention the very best ever by featuring a customized program
Poplar Grove, Illinois (PRWEB) March 20, 2013
CCMA and Business Talk Radio are indeed fortunate to have as our special guest Mr. Barry Elms discussing "Mastering The Art Of The Deal". During a speaking career that spans over 20 years Barry has given over 2000 presentations worldwide. His energetic style and dynamic message will keep you on the edge of your seat. Barry Elms, President of Strategic Negotiations International, is considered by many to be America's business coach in sales & negotiating skills. Barry was born and educated in England and has worked in Sales, Customer Service, and Credit Management, as well as being CEO of companies in both Europe and America.
In addition to being a world class public speaker, Barry is also the author of numerous video and audio programs including: "Negotiate Your Way to Success", "Advanced Negotiation Skills", "Dialing for Dollars" and "The Art of Getting Paid".
Barry's entertaining and inspiring material is appreciated by a portfolio of clients that includes, General motors, Ford Motor Credit, American Express, Verizon, Dell Computers, Shell Oil, The Federal Reserve, and many other leading companies.
CCMA (Commercial Credit Management Associates) is a service provider to the B2B credit management profession and to businesses nationwide. CCMA's association of world class credit management professionals provides contract service consulting, "Credit Boot Camp" educational/training workshops for the unemployed, and delivers the only LIVE ON THE AIR Radio show, BUSINESS CREDIT RADIO, dedicated to the credit management profession. BCR is "THE VOICE OF CREDIT MANAGEMENT" brought to you by CMA , a proud Affiliate of NACM that has helped business-to-business companies with their credit, collection, and financial decisions since 1883. Contact CMA at http://www.creditmanagementassociation.org for more details on how CMA can benefit you.