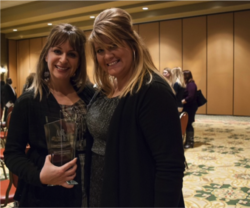 Naperville, IL (PRWEB) March 20, 2013
March 20, 2013 - Opal Enterprises, Inc. is pleased to announce it was selected to receive the Annual Award for Business Excellence by the Daily Herald Business Ledger. The AABEs recognize outstanding business achievement, growth and community involvement among Chicago suburban business professionals. Awards were presented at the 23rd Annual Award for Business Excellence ceremony on March 13th at Medinah Banquets in Addison, IL.
Opal Enterprises, Inc. was honored in the Small Business category. Opal started as a small home business and grew to the success it is today as it opened a showroom and relocated to Naperville. The company also developed innovative ways to manage its customers and staff through strategic planning and certified training sessions. The Opal brand became consistent and the company focused on providing value to its customers and strengthening relationships.
"I appreciate the long path we have taken to define our satisfaction process that has resulted in happy remodeling customers as well as happy employees," said Tara Opalski, Co-Owner of Opal Enterprises. "Winning this award feels like the community appreciates and validates our hard work. I cherish the community we serve and this award is a 'thumbs-up' for us to continue with the business plan we are on!"
Awards were presented to twenty companies and not-for-profit organizations with a significant presence in the suburban circulation area of the Daily Herald Business Ledger. Former Illinois Speaker of the House of Representatives Lee Daniels was the keynote speaker for the AABE evening event. The recipient companies and organizations will be featured in a special section of the April 15th issue of the Daily Herald Business Ledger.
About Opal Enterprises, Inc.
Opal Enterprises is a remodeling company that operates in partnership with knowledgeable, professional employees. The company has been installing windows, siding, and roofs for over ten years. Located in Naperville, Opal Enterprises proudly serves the western suburbs of Chicago. Their niche is specific to serving the homeowner in need of roofing, windows, doors, gutters and house replacement and improvement. Opal Enterprises strives to provide its customers with a pleasant experience while bringing energy-efficient beauty to their home.